First batch of AstraZeneca antibody drug Evusheld arrives in Vietnam
Friday, 12:00, 25/03/2022
VOV.VN - Facilities of Tam Anh General Hospital in both Hanoi and Ho Chi Minh City on March 24 received the first batch of Evusheld, a drug developed by AstraZeneca to fight COVID-19 infection by combining two long-acting monoclonal antibodies.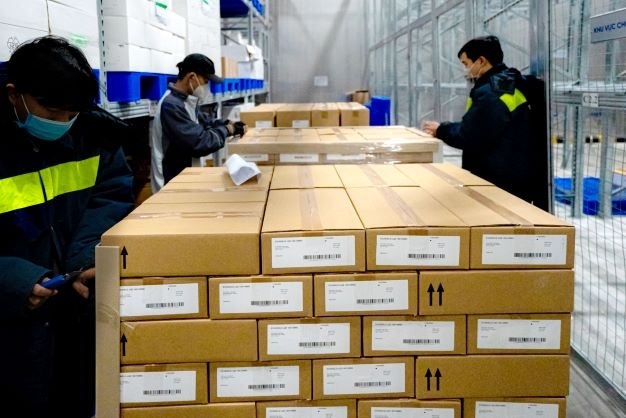 The shipment has been made on the basis of a contract for 20,000 doses signed with AstraZeneca by the Vietnam Vaccine Joint Stock Company (VNVC) on November 2, 2021.
In terms of storage, the drug must be preserved at temperatures between minus two and minus eight degrees Celsius. The prescribed two doses are given at one time, with the preventive effect thought to last for six months.
According to a representative of Tam Anh Hospital, they will charge VND19.7 million, equivalent to US$866, for administering the drug, including the administration of two doses and health checks both before and after.
The hospital revealed that thousands of people have since registered to be injected with the antibody drug. As a result, the injection process will begin on March 26 at all facilities of Tam Anh General Hospital in both Hanoi and Ho Chi Minh City.
Evusheld, a long-acting monoclonal antibody, serves as a prevention therapy for people in high-risk groups. It is capable of helping to protect them from COVID-19 infection before they are actually exposed to the virus. It represents the first pre-exposure prophylaxis product created to tackle COVID-19, with the exception of vaccines.
In contrast to typical vaccines which are available, Evusheld helps inoculated individuals by producing a necessary amount of antibodies in order to protect them against COVID-19, with an efficiency rate of up to 83%.
Those who are unable to be given any of the existing COVID-19 vaccines due to potentially serious side-effects to any of its components such as severe allergy and anaphylaxis can instead choose to get the Evusheld injection.