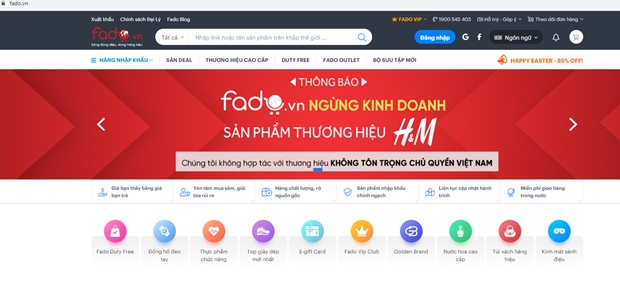 Fado, one of the five biggest e-commerce platforms in Vietnam, was the first of its kind in Vietnam to make such move, amid an increasing boycott against H&M products among Vietnamese consumers in response to the posting.

The map on H&M's website features China's "nine-dash line" in the East Sea, which marks China's claims to sovereignty over as much as 90% of the waters. Many Vietnamese said the company for the sake of its profits has disrespected Vietnam's territorial sovereignty. 

CEO of Fado Dat Pham said the suspension of the sale of H&M products on the platform began at 0:00 hours April 7.

He said as the Fado.vn team are Vietnamese, they do not cooperate with brands that are disrespectful to Vietnam's territorial sovereignty.

H&M is now running 12 stores in Vietnam, with the first store opened in Ho Chi Minh City in September 2017.