COVID-19: Virus infections rise again in Vietnam
Thursday, 19:23, 28/10/2021
VOV.VN - The number of people testing positive for the SARS-CoV-2 virus in Vietnam has increased to 4,500 – 5,000 over the past few days compared to fewer than 4,000 recorded in the past week.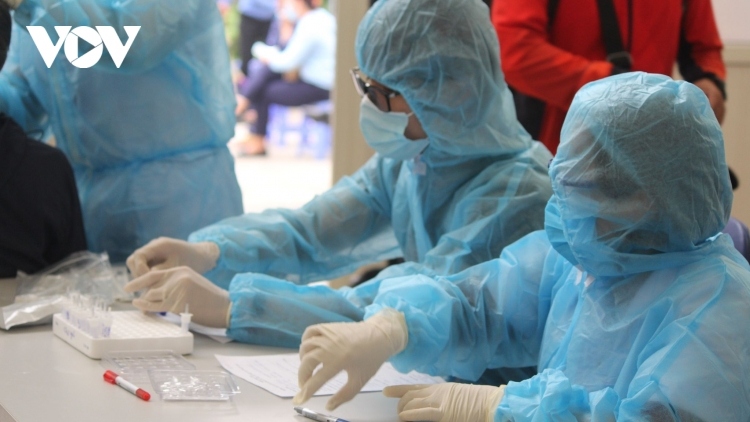 The Ministry of Health announced on October 28 that Vietnam has recorded 4,892 new cases, including 4,876 locally acquired and 16 imported cases during the past 24 hours.
Of the total, 1,980 cases were detected in the community through random testing or test screening.
Ho Chi Minh City, the largest coronavirus hotspot in Vietnam, topped localities and cities in infection numbers, registering 1,069.
Nearly 1,200 COVID-19 patients were admitted to local hospitals on October 28, a figure that shows a rise in hospitalization numbers in the city.
Other southern localities that documented high numbers of cases include Dong Nai with 745 new cases, Binh Duong 618, An Giang 286, Tay Ninh 190, Kien Giang 160, Tien Giang 139, and Can Tho 138.
Quang Nam suddenly confirmed 129 new cases over 24 hours, topping central localities. Similarly, the northern border province of Ha Giang that has recorded just few cases daily saw as many as 184 people test positive during the day.
Hanoi capital also reported 31 new cases, with most of them closely linked to the complicated outbreak in its outlying district of Thanh Oai.
Dozens of cases have been detected in Thanh Oai over the past few days, and local authorities said they have already localized the source.
As of 06pm on October 28 Vietnam has confirmed 905,477 COVID-19 cases since the start of the first outbreak in January 2020, ranking 40th out of 223 countries and territories worldwide.
Of the total, 813,963 patients have been discharged from hospital after making a full recovery from the disease, including 1,649 recoveries announced on October 28.
The MoH also confirmed 54 COVID-19 deaths during the past 24 hours, with HCM City and Binh Duong reporting 25 and 6 fatalities, respectively.
The October 28 figure has raised the COVID-19 death toll in Vietnam to 21,910, making up 2.5% of the total number of infections. 
About 77.1 million vaccine doses have been administered nationwide, with 22.6 million people getting their second shot.