COVID-19: Vietnam confirms over 12,000 new infections over 24 hours
Monday, 19:10, 06/09/2021
VOV.VN - Vietnam has confirmed 12,481 coronavirus cases during the past 24 hours, a fall of 624 cases compared to the previous day, according the Ministry of Health (MoH) in its 06.00pm coronavirus update on September 6.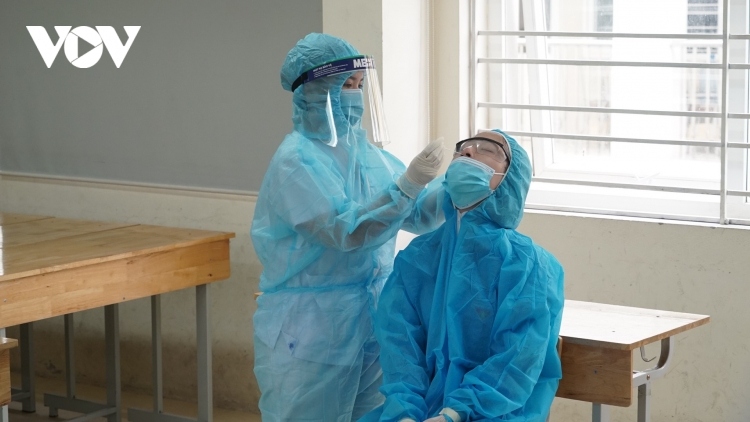 Of the new infections, 8,099 cases were detected in the community through test screening or random testing, four tested positive upon returning to Vietnam from overseas, and the rest were documented in quarantine or lockdown areas.
Ho Chi Minh City, the largest coronavirus hotspot, led all cities and provinces, registering 7,122 cases alone.
It was followed by Binh Duong with 2,194 new cases, Dong Nai 871, Long An 857, Tien Giang 234, Kien Giang 201, and Tay Ninh 134, all in the south.
Khanh Hoa and Dak Lak topped regional localities, reporting 97 and 79 cases, respectively.
Elsewhere, Hanoi capital confirmed 42 cases, followed by Bac Ninh 7, Son La 2 and Bac Giang 1.
Data from the Ministry of Health show that the past 24 hours saw daily caseload fall by 624 cases compared to the previous day due to a sharp fall in infection numbers in Binh Duong and Dong Nai.  
On September 5, both Binh Duong and Dong Nai registered 3,540 and 1,243 new cases.
As of 06.00pm on September 6, Vietnam has recorded 536,788 coronavirus cases since the start of the outbreak in January 2020, ranking 51 out of 222 counties and territories worldwide.
It has registered 532,490 locally acquired infections following the resurgence of the virus more than four months ago. Of the total, 298,683 patients have been discharged from hospital after making a full recovery from the disease.
The MoH has also confirmed 311 COVID-19 deaths during the past 24 hours, with HCM City and Binh Duong, the two largest coronavirus hotspots, reporting 233 and 39 fatalities respectively.
The September 6 figure has raised the total number of COVID-19 fatalities in Vietnam to 13,385, making up 2.5% of the total number of infections and 0.4% higher than the average death rate globally.