COVID-19 treatment drugs illegally traded on black market
Thursday, 11:03, 13/01/2022
VOV.VN - A number of antiviral drugs specifically for COVID-19 treatment such as Molnupiravir and Favipiravir are being traded on the black market locally at various prices and with unreliable quality, though they are strictly prescribed by doctors.
Antiviral drugs easy to come by in Ho Chi Minh City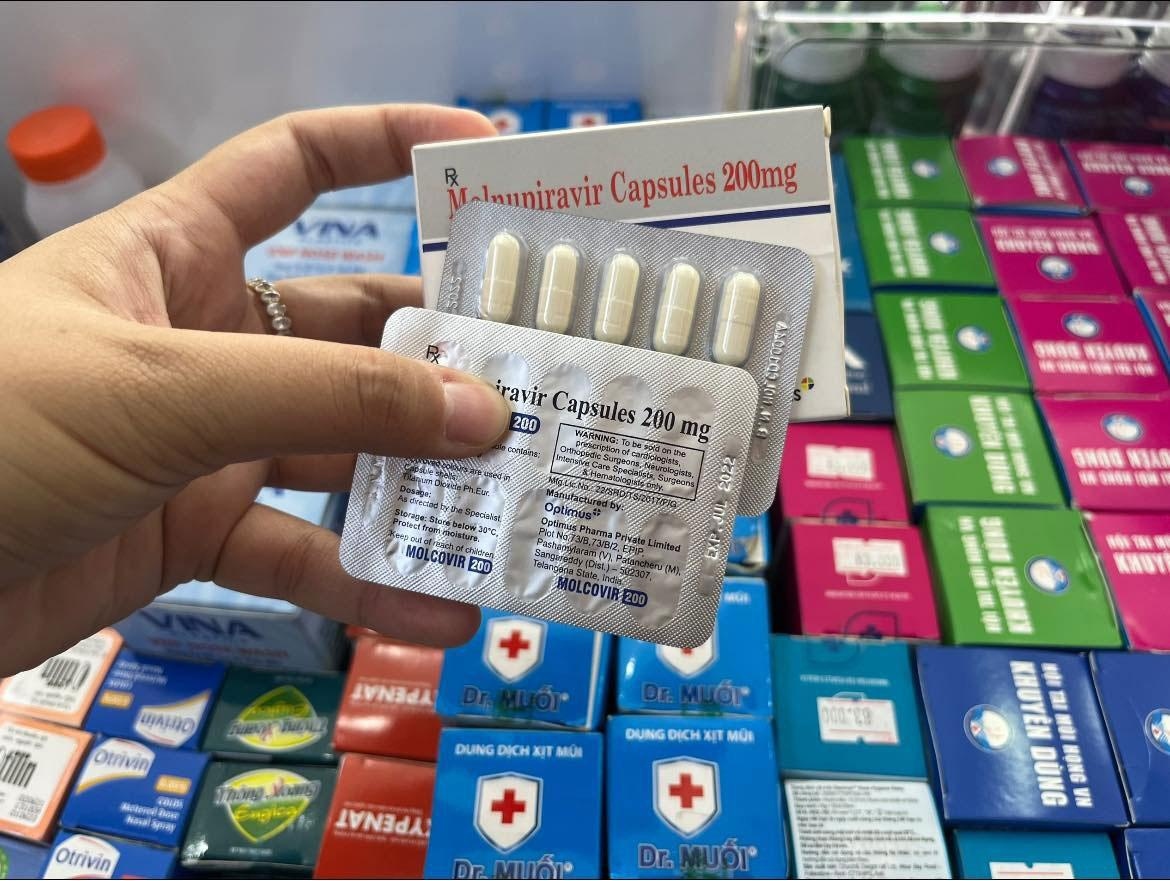 At present, drugs which treat and support the recovery of COVID-19 cases are being publicly sold on social media outlets such as Facebook and Zalo. They are said to originate from different countries like India, Russia, and China, among others. After a few price inquiries, the purchase is simple and the drugs can change hands by home delivery, at which stage the payment is executed, reports thanhnien.vn.
The Facebook account L.H.N posts the drug Favipiravir 400mg for sale, noting this medication is imported from India at a cost of VND1.8 million per a box of 17 tablets. If anyone buys in large quantities, from five to 10 boxes for instance, L.H.N offers a discount of VND100,000 to VND200,000/box.
Similarly, the Facebook account TN sells the drug Lianhua Qingwen Jiaonang, saying that the Chinese licensed medication helps to reduce symptoms caused by COVID-19. Indeed, a box of 24 pills costs typically VND110,000 and a box of 36 pill costs VND150,000.
Among the drugs for COVID-19 treatment, Molnupiravir can be viewed as the most highly sought after by patients. The drug imported from India was sold in secret in the Vietnamese market when the virus resurged in late April, 2021. A box of 20 capsules of 400mg costs around VND2 million.
The price of such a box skyrocketed to up to VND9 million during the height of the outbreak in Ho Chi Minh City in August and September, before dropping to as low as VND2 million when the outbreak showed signs of abating.
A number of major pharmacies based in the southern city post the trading of this antiviral drug on their own webpages and offer advice online. However, none of these pharmacies conduct transactions on the site.  
Antiviral drugs available in Hanoi market
In Hanoi, Molnupiravir trading also occurs on social media, with Facebook a hub for this activity. If someone publicly posts, "I need Molnupiravir", then dozens of inboxes will appear in just five minutes. Sellers can even fix retail and wholesale prices, as well as offering discounts if a big deal is executed.
A woman who claimed to be a doctor in Hanoi's Long Bien district said she was selling Molnupiravir unused by hospitals at a cost of VND4 million for a box of 20 capsules. In order to give customers greater confidence, she pledged to deliver the medicine to their home, take a free quick test sample there, and call every day to offer advice until the customers test negative.
"Molnupiravir is very effective, you only need to take a box, and you certainly test negative after three days," she said. 
When a thanhnien.vn reporter visited some of the big pharmacies in the capital to ask for this drug, most of them were hesitant to sell, saying that the drug is banned. However, some pharmacies were willing to sell the drug, along with offering advice.
At a pharmacy on La Thanh street, Molnupiravir was said to be imported from India, with an order being placed in advance in the event that a large quantity is needed.
Similarly, at another pharmacy on Cau Dien street, a female staff member said her pharmacy was selling Molnupiravir imported from India and Russia priced at VND1.6 million and VND2.6 million, respectively.  
"Both types of drug are good, but the Indian medication is more affordable. If you take this, your symptoms won't get worse, and just one box is enough," said the female staff member, adding that her pharmacy specialises in wholesale trading.
Adverse health impact warnings
Currently, there are only three types of antiviral drugs, namely Molnupiravir, Favipiravir, and Remdesivir, which are being used for COVID-19 treatment in Vietnam.
Among these drugs, only Favipiravir is allowed orally at a dose prescribed by a doctor. In addition, Remdesivir is used at medical facilities, depending on the stage of the disease. Meanwhile, Molnupiravir, which is being used in a pilot controlled treatment programme, is distributed free of charge to patients suffering from mild and moderate COVID-19 and is not marketed.
The Drug Administration of Vietnam under the Ministry of Health affirms that the purchase, sale, and use of drugs that are not allowed in circulation in the market is a serious violation of the Law on Pharmacy and incurs potential risks of adverse health effects.
It warns that each antiviral drug is only indicated for certain types of COVID-19 patients, and therefore, the use of these antiviral drugs should be strictly prescribed by the doctor.