COVID-19: Over 8,600 infections, 368 deaths recorded over 24 hours
Monday, 19:06, 16/08/2021
VOV.VN - An additional 8,644 coronavirus cases have been detected in Vietnam during the past 24 hours, approximately 1,000 fewer than the previous day's figure, while COVID-19 has claimed 368 more lives in the country, according to the Ministry of Health (MoH) on August 16 evening.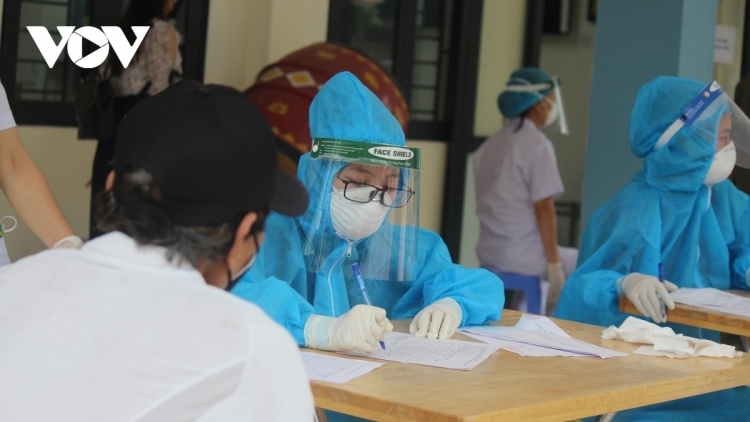 Of the newly detected cases, 8,644 were locally acquired and eight were diagnosed upon returning from overseas, the MoH said in its 06.00pm coronavirus update.
About 2,422 cases were documented in the community through random testing or test screening at healthcare facilities, and the rest tested positive in quarantine or lockdown areas.
Ho Chi Minh City, the largest coronavirus hotspot in Vietnam, led 43 cities and provinces that reported new infections, registering 3,341 cases.
It was followed by Binh Duong 2,522, Long An 599, Dong Nai 588, Dong Thap 158, Tien Giang 152, and Vinh Long 131, all in the south.
Khanh Hoa was the hardest hit locality in the central region, recording 262 new cases alone. Elsewhere in the central region, Da Nang confirmed 96 cases, Phu Yen 62, Thua Thien - Hue 60, Gia Lai 25, Nghe An 24, Ha Tinh 17, Dak Lak and Quang Nam 11 each.
The past 12 hours also saw 50 cases detected in Hanoi, 11 in Bac Ninh, 6 in Nam Dinh, 4 in Lang Son, 3 in Ninh Binh, 2 each in Son La and Lao Cai, all in the north.
Data from the MoH show the past 24 hours saw Vietnam record 930 fewer cases than the previous day. Notably, HCM City saw a fall of 1,175 cases while Binh Duong posted an increase of 164 cases.
Overall, Vietnam has confirmed 279,681 new cases since the resurgence of the virus in late April 2020 and 283,696 cases since the start of the first outbreak in January 2020.
As many as 4,473 more patients have been discharged from hospital during the past 24 hours, raising the total number of recoveries to 106,977. Currently, 590 critically ill patients are receiving treatment at intensive care unit (ICU) centres and 22 patients are on ECMO, a life-support therapy for patients in critical condition.
Also on August 16, the MoH announced a further 368 COVID-19 deaths in 15 cities and provinces, with Ho Chi Minh City alone confirming 315 fatalities.
Vietnam has so far recorded 6,141 deaths, with most suffering from underlying illnesses such as hypertension, diabetes (type II), and multi-organ failure.