COP26 Ambassador hails Vietnam's climate change commitments
Tuesday, 13:13, 26/04/2022
VOV.VN - Ken O'Flaherty, regional ambassador of the UK Government at COP26 to Asia-Pacific and South Asia, has hailed strong Vietnamese commitments to tackle climate change made at the UN Climate Change Conference (COP26).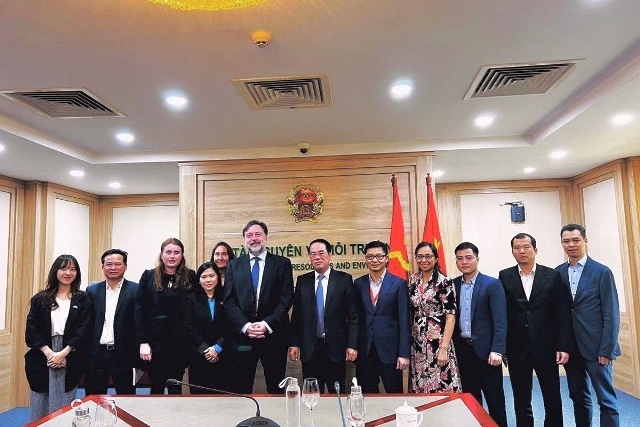 During his recent trip to Vietnam, O'Flaherty worked with leaders of relevant ministries and agencies, applauding Prime Minister Pham Minh Chinh's strong commitments at COP26 on emissions reduction measures in a bid to achieve net-zero emissions by 2050.
He went on to emphasise the UK's willingness to support the country in fulfilling these commitments, especially those regarding the nation's energy transition.
While in Hanoi, the diplomat took part in the Second COP26 Energy Transition Council National Dialogue with Vietnam co-hosted by the Party Central Committee's Economic Commission and the British Embassy. Attendees discussed a range of issues that require solutions to climate change from government agencies, development partners, and the private sector.
He also paid a visit to the Mekong Delta city of Can Tho where he met with representatives of Can Tho University, environmentalists, and researchers to learn more about the opportunities and challenges of the Mekong Delta region in responding to climate change. He also took a boat trip on the Hau river to learn first-hand effects of climate change on the environment, the community, and the economy in the region.
The diplomat also visited a number of wind power projects in Vinh Chau town in the southern province of Soc Trang. He noted that the wind farms coming into operation will definitely contribute to national energy security, thereby creating jobs and increasing the income of local people.
He stressed that these projects are suitable for development orientations of Soc Trang in particular and Vietnam in general, with a specific focus on environmental protection and the sustainable development of coastal areas.
While staying in Ho Chi Minh City, O'Flaherty worked alongside local authorities, noting green growth and sustainable development requires the co-ordination of the state, the private sector, and businesses which have specific strategies.