Brave soldiers on the front line against an invisible enemy
Friday, 13:03, 20/08/2021
VOV.VN - Joining frontline forces in the COVID-19 fight has so far left soldiers unperturbed as they strive to reach various virus hotspots in order to contribute to the country's ongoing fight against an invisible enemy.
Nearly four months have elapsed since the SARS-CoV-2 virus reemerged nationwide, resulting in the most complicated and dangerous outbreak seen in the country since the pandemic first emerged. The virus has so far spread to 62 out of 63 cities and provinces nationwide, with the Delta variant causing a faster, stronger, and more unpredictable transmission rate, thereby dealing a heavy blow to business production and people's daily activities.
Statistics compiled by the Ministry of Health show the national daily caseload has consistently hovered between 8,000 to 10,000 cases, even surpassing the 10,000 mark on August 19. In addition, the mortality rate has continued to rise, with the majority of deaths occurring in southern provinces.
The Party General Secretary has made an appeal, calling for the engagement of the entire political system, organisations, and people in the ongoing fight against the hidden enemy, with the army being no exception.
"White blouse" soldiers on the front line
Major General Nguyen Xuan Kien, director of the Military Medical Department under the General Department of Logistics, says swift contact tracing and testing will play a crucial role in containing the disease when outbreaks occur.
The army, first and foremost the military medical force, has established roughly 2,000 sampling teams, 500 testing teams, and a system of testing machines, that are capable of conducting COVID-19 testing alongside the local healthcare sector, he reveals.
Military hospitals, led by the Military Medical Academy, have deployed more than 1,000 healthcare workers who can join sampling and testing teams, with roughly 10,000 samples tested every day.
As soon as the virus recurred in Ho Chi Minh City, the country's busiest and most populous locality, and other localities in the south, the Ministry of Defense swiftly directed Military Zone 7, 9, and other military units stationed in the area, to actively deploy isolation work. As a result, many concentrated quarantine facilities run by the army have been established in various localities, receiving and providing services to hundreds of thousands of people.
Along with sampling and testing, the Ministry of Defence has also helped to establish field hospitals which can treat people infected with the virus.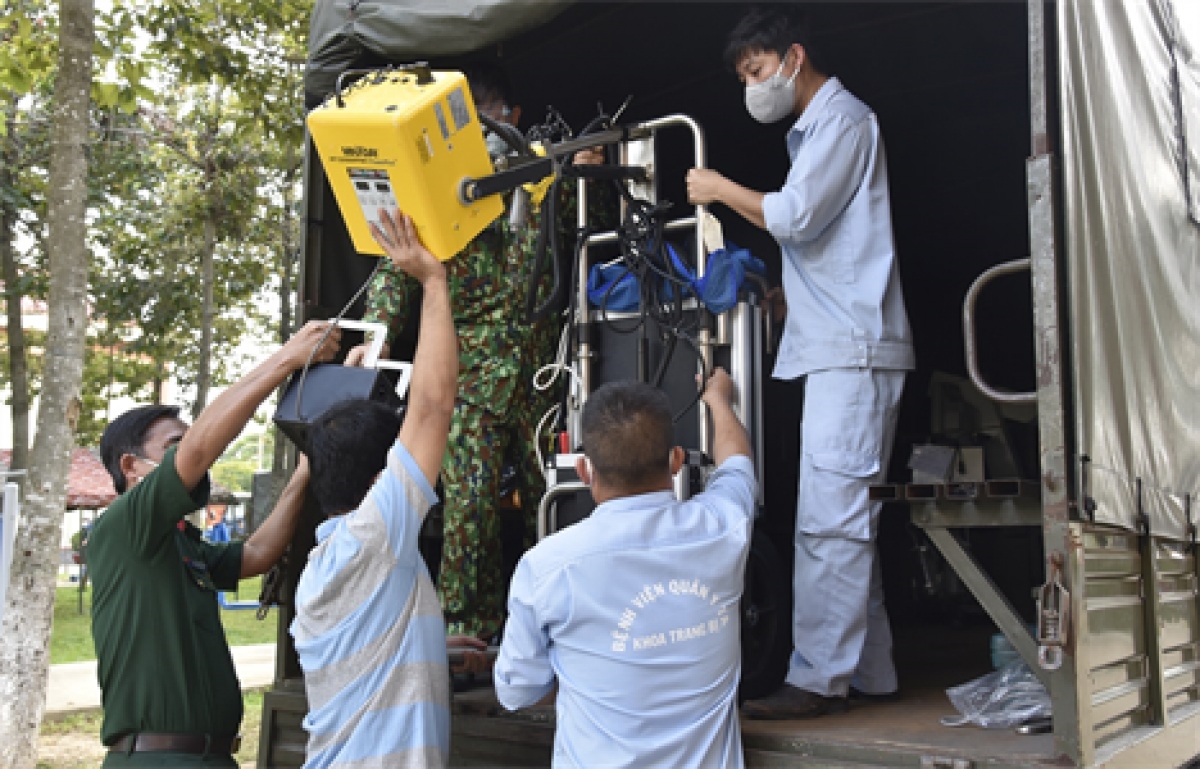 Senior Colonel Pham Hong Ha, director of field hospital No5 in Binh Duong province, currently a major COVID-19 hotspot, shares difficulties that doctors and nurses have encountered in terms of receiving and treating patients.
"Although the hospital's medical staff have trained in advance, what has happened is completely different. The number of hospitalised patients sometimes reached more than 200... Our doctors and nurses have struggled to receive patients no matter when they come, even at night and in harsh weather conditions," Sen. Col. Ha confides, "Despite limited capacity and mounting pressure, we, as soldiers on the frontline, are determined to fulfil tasks, because protecting people's health is the No1 priority."
Meanwhile, Major General Nguyen Hung Thang, chief of staff of the General Department of Logistics, recalls that hundreds of officials, doctors, and nurses of the Military Medical Academy, Vietnam-Russia Tropical Research Center, and Military Institute of Preventive Medicine took overnight buses to Bac Giang and Bac Ninh provinces when the virus ravaged the two northern localities.
Shortly after that, Military Medical Hospitals 103, 354, 110, and 108 dispatched their doctors and nurses to both provinces to assist with COVID-19 sampling, testing, and treatment.
Another front emerges along the border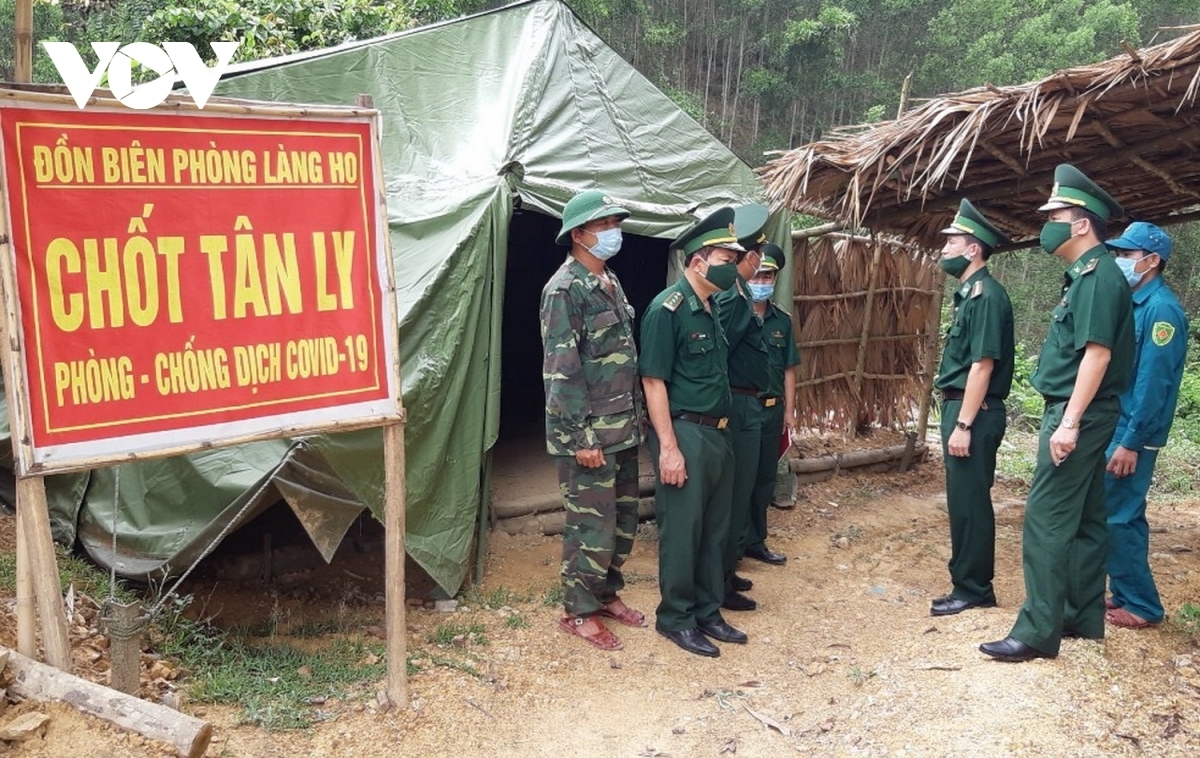 Amid the spread of the virus nationwide, border guards have also moved to strengthen patrols as a means of nipping any illegal cross border activities in the bud, whilst also maintaining order and safety at concentrated quarantine facilities.
Since January, the Border Guard force has maintained more than 1,900 checkpoints, with over 8,000 officers and soldiers patrolling national land and sea borders. On average, they are able to execute immigration procedures for between 4,000 and 5,000 people every day, detecting hundreds of cases of illegal entry and subsequently handing them over to local health authorities to undergo isolation and have their cases reviewed.
They have so far deployed a total of 180 isolation points, monitoring the health, and providing healthcare and catering services to hundreds of thousands of people.
In the spirit of "fighting the epidemic like fighting the enemy", many border guards and soldiers have been forced to postpone their marriages, while some are could not return to their hometowns to mourn their relatives. However, they all expect that their sacrifices will pay off one day.
Assisting people with funerals of COVID-19 patients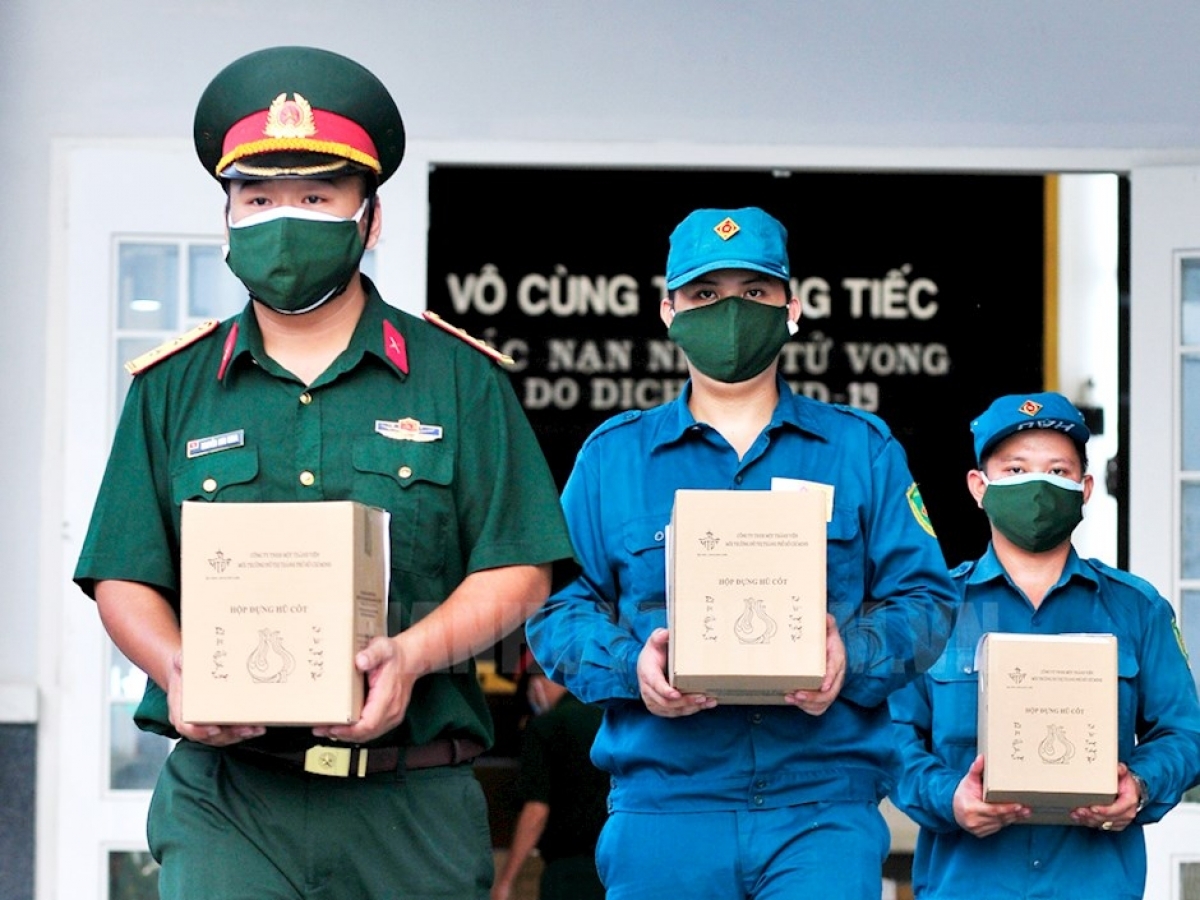 With the COVID-19 pandemic currently evolving in a complex manner it has resulted in a surge in the numbers of new infections and deaths, mostly in the south. Once again, the army has been tasked with receiving and transferring the ashes of deceased COVID-19 patients to their families.
Ho Chi Minh City became the first locality in the country to implement this humane decision. Accordingly, the Ho Chi Minh City Military Command received the urns of the ashes and held a memorial service for the deceased at the City Funeral House. It then delivered the urns to local military commands that later handed over them to the various families of the deceased.
Minister of National Defense General Phan Van Giang says the entire army is always ready to perform missions to support localities and people in COVID-19 prevention and control efforts. This is not only a duty and a responsibility, but also an order from the heart of each soldier to the fatherland.
It is anticipated that the nation's fight against COVID-19 may last longer. However, all soldiers fully understand that only when they unify will the country be able to defeat the virus once and for all.