Activities mark 110th birth anniversary of General Vo Nguyen Giap
Tuesday, 19:38, 21/12/2021
Many activities have been held in different localities to commemorate late General Vo Nguyen Giap on the occasion of his 110th birth anniversary (August 25, 1911 - 2021) and the 77th founding anniversary of the Vietnam People's Army (December 22, 1944 - 2021).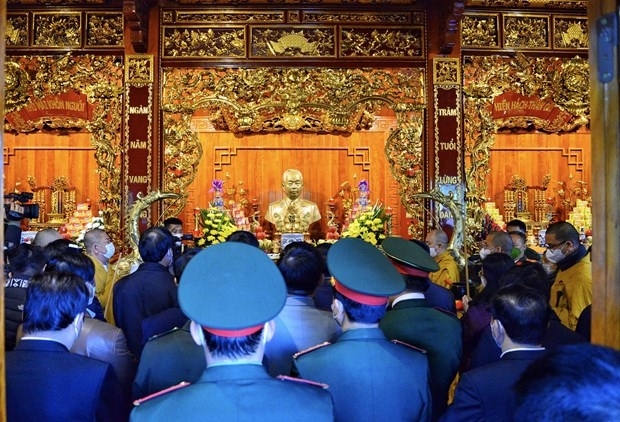 The northwestern province of Dien Bien held a ceremony on December 21 to position a bust of the brilliant military strategist, who was also called the "Eldest Brother" of the Vietnam People's Army, at the relic site of the headquarters of the 1954 Dien Bien Phu Campaign. This campaign was commanded by General Giap and put an end to the French colonial rule in Vietnam and Indochina as a whole.

The bronze bust, 86cm in height and about 80kg in weight, is a small replica of his sandstone bust on Son Ca Island in the island district of Truong Sa, Khanh Hoa province.

Nguyen Minh Phu, Director of the Dien Bien provincial Department of Culture, Sports and Tourism, said the placement of the bust at the former headquarters of the Dien Bien Phu Campaign held great significance as this was where the commander-in-chief of the army made many important decisions contributing to the globe-sharing victory of the campaign.
Also on December 21, a poem and photo exhibition opened at the Vietnamese Women's Museum in Hanoi to provide visitors an insight into the historic Dien Bien Phu victory, the daily life of General Giap, and people's sentiment for him.

The event features 110 poems by teacher, poet, and journalist Nguyen Thi My Dung, who have written many articles and poems about the general for more than 20 years. The poems are accompanied by photos taken by the Vietnam News Agency, journalist Dung herself, and photographer Colonel Tran Hong.
The same day, the Central Committee of the Ho Chi Minh Communist Youth Union inaugurated a commemorative site dedicated to Youth Volunteer Company C283 in Thanh Trach commune of Bo Trach district, the central province of Quang Binh - the hometown of General Giap.

Professor Nguyen Huu Duc, former Deputy Director of the Vietnam National University, Hanoi, said during wartime, Quyet Thang hamlet of Thanh Trach commune was the target of many air attacks by the US military to destroy the route for transporting food and weapons from the north to the south, and many young volunteers of the C283 company had died in the attacks.

On this occasion, many other commemorative activities have also been organised, including handing over houses and savings accounts to war veterans and former youth volunteers, presenting gifts to veteran revolutionaries and families of revolution contributors, and visiting the Heroic Vietnamese Mothers and veterans in Dong Hoi city of Quang Binh province.