ABU – from a regional organisation to global player
Saturday, 11:08, 13/02/2021
VOV.VN - Despite changes in half a century, the main role of ABU, the Asia-Pacific Broadcasting Union, is to promote solidarity, peaceful cooperation, mutual understanding and partnership between countries, organisations and people, says PhD Javad Mottaghi, ABU Secretary General.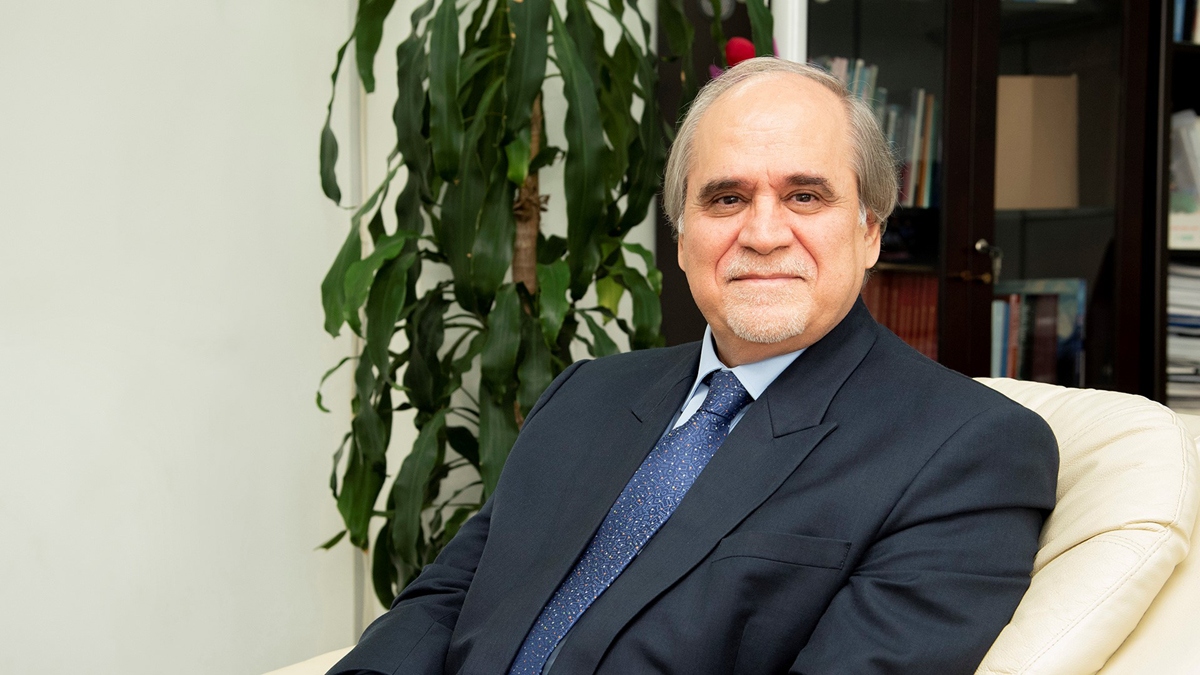 PhD Javad Mottaghi provides a revealing insight into ABU's role and its development strategy in an interview granted to Voice of Vietnam Radio (VOV). Following is the full text of the interview.
A focus on commonalties and shared values
VOV: ABU was established in 1964, up to now it has become a powerful professional organization reaching out beyond the Asia-Pacific region. What is the secret of its longevity?
PhD Mottaghi: 1964 was the year of the Tokyo Olympic Games, the first ever held in Asia. It was also the first big international sporting event broadcast live around the globe. That was the year when ABU was born with a mandate to support the broadcasters in the region to serve the people of Asia – Pacific. The region was reeling from the horrors of the WWII, the atomic bombing of Hiroshima and Nagasaki and in a full swing of decolonisation. The ABU forefathers wanted to show a positive example of building a culture of tolerance between nations through their national broadcasters.
We have to also remember that in 1964 there were a very few broadcasters in the region and the media landscape was dominated by print media – newspapers and magazines. The radio and TV were a novelty and in many newly born nations just making their first steps. I am glad to recognise here that VOV was among the first wave of enthusiastic young stations that sprung after WWII.
Fast forward fifty-six years and another Tokyo Olympiad is on the horizon but now the world is a very different place. From a broadcaster's perspective it can be characterised as a digital world. Due to the development of new technologies, countries and continents are closely connected as never before. News, images and ideas can reach in seconds any corner of the globe. For individual broadcasters it is not easy to stay afloat in the raging sea of digital transformation. 
Many other things have changes in half a century but what stays the same is the need for peaceful cooperation, for mutual understanding and partnership, for solidarity between countries, organisations and people. This is the main role of ABU and it has remained unchanged through the years- to connect people from the broadcast industry, to facilitate the exchange of expertise and technology, to help for the advancement of media organisations through training, seminars, workshops and many other events. The history of the Union has convinced us that things are done better when they are done together in mutual interest and for the benefit of our vast audience.
This has attracted more broadcasters from across the globe. From the founding 15 members in 1964, now the Union has 253 members in 69 countries on five continents. Through our members' networks we can reach over 3 billion people in Asia – Pacific. The role of ABU is to focus on commonalties and share values to unite the different organisations members of the union who are very diverse – public service and commercial, from the largest multi-billion-dollar networks to single stations in some of the world's smallest nations. It is our duty to ignite the spirit of solidarity and friendship among members and be with them every step of this difficult but exciting journey.
Over the years we have stayed true to the values on which the forefathers of the Union based it. We are where we are today thanks to the generations of visionary leaders and the hard work of many members.
From the founding 15 members in 1964, now the Union has 253 members in 69 countries on five continents. Through our members' networks we can reach over 3 billion people in Asia – Pacific
Great successes in the difficult period
VOV: Could you please share with us the great successes of ABU in the recent times?
PhD Mottaghi: It is true that in the past few years the ABU had become stronger and reached a level and respect internationally as never before with several outreaching campaigns and excellent services to members. However, for me one of the biggest success is the way the members reacted and coped with the global health crisis brought by COVID -19. This was a test for the Union, for its values and partnerships. I am glad to say that ABU took this test with flying colours. The spirit of solidarity and compassion was overwhelming.
In a matter of days many members – small and big, rich and not so rich, exchanged management strategies to address COVID - 19 threats to their broadcast operations and staff, advisories and content. In less than three weeks ABU created the COVID - 19 content database. 42 organisations contributed over 1,448 copyright free programmes so members can broadcast others' organisations content.
The COVID - 19 database was a booster for an already very vibrant exchange of daily news, music and sport and entertainment programmes. These are very tough times for members financially. We knew that expanding the pool of copyright free programmes that members could exchange will be a lifesaver for many members because their own programme production either stopped or was severely curtailed limited, while huge loss of advertising and redirection of funding for remote production and staff protection means they don't have money to buy programmes.
Expanding the free exchange of high-quality programme service to members was our top priority during the pandemic. It was made possible because we launched the Asia – Pacific View – the ABU cloud – based content exchange platform. Having ABU own digital content platform had been our dream for some time. I am very proud of the ABU technical team who created the ABU digital "high-way" and who did it in a very short time. Having our own platform made it possible to boost one other main ABU service to members – capacity – building.
Launching the ABU Media Academy is another dream come true.  In response to new training trends ABU formed its Media Academy in July 2020, which is expanding the type and delivery style of the ABU's training courses. The focus is on new digital platforms which offer more exciting experiences to readers, listeners and viewers.
At the same time, we do not underestimate content because technology by itself is not enough to reflect our complex world. ABU is doing its best to assist members in their adaptation to digital production and transmission, stimulating strategic thinking through conferences and other meetings of media professionals. The ABU Media Academy is now fully prepared to meet members' expectations in capacity building
Launching an on- going online media dialogue among CEOs on various topics was another success story for the ABU members, which enabled them to constantly talk together and exchange their views and experiences in such a challenging time.
The ABU also successfully organized and hosted the 57th General Assembly and Associated Meetings as the first ever Virtual General Assembly. Over five weeks, from 16th November to 17th December 2020, all usual meetings were held according to the schedule and to the ABU high standards.
These are new initiatives. ROBOCON, ABU Radio and TV Song Festivals, ABU Dance Festival and ABU Awards had been very popular across Asia and the Pacific and seen over the years by billions of people.
No member to be left behind
VOV: Could you tell us about ABU's future developmental strategies and vision, both short- and long-term?
PhD Mottaghi: The ABU will continue to remain a member – oriented, service – oriented and forward – looking organisation.
The geographical footprint is vast. It is often said that the ABU covers an area stretching from Turkey in the west to Samoa in the east, and from Russia in the north to New Zealand in the south that it can reach a potential audience of about 3 billion people. These facts, although very impressive, pale to express all the hard work, the joint efforts, the flow of ideas, the friendship and solidarity which are behind the steady growth of the union, its transformation from a relatively small regional organisation more than half a century ago to a global player that represents the collective interests of the Asian-Pacific broadcasters.
The ABU has developed a comprehensive "Three – Year Action Plans" which properly respond to the needs and expectations of members in news, technology, sports, training and content from 2019 to 2021. This is a massive operation which we started delivering since 2019 and hope to achieve major parts of these Action Plans by the end of 2021 despite the situation imposed on all of us by COVID 19 Pandemic.
As part of our Three – Year Action Plans, we are offering extensive support to developing countries to "narrow the digital gap" with advanced countries. This is not just technical know-how transfer but also capacity building for content production for multi-platforms to reach increasingly fragmented audiences, especially young people.
Further development of digital technologies, expanding of program exchange, increased use of all online platforms to reach ALL our members with training, capacity building, development, networking and many other initiatives – these are all components of our long-term strategy for development of the broadcast industry in the region.
Another line of this long-term strategy is inclusion, not leaving any member behind. Careful selection of the location and scheduling of meetings, workshops etc around the region, to ensure no-one misses out because of geography. This includes special focus on sub-regions such as the Pacific Islands broadcasters, who could otherwise be left isolated, and Central Asia. 
In the short – term we are planning to keep and enhance popular and useful events like the ABU Asia Pacific Robot Contest (ABU Robocon) which is an Asian Oceanian college robot competition, founded in 2002 by NHK, Japan as an Asia- Pacific Broadcasting Union project. In the competition robots compete to complete task within a set period of time. The contest aims to create friendship among young university students with similar interests who will lead their countries in the 21st century, as well as help advance engineering and broadcasting technologies in the region. The event is broadcast in many countries through ABU member broadcasters. We are very proud of Vietnam participation and congratulate the Vietnamese university students for regularly winning this youth competition of digital innovation.
Another such project is CARE (Change Asia Rescue the Earth) TV documentary Co-production initiated by KBS-Korea that is in its 11th year series. 35 organizations have participated with 121 titles over the years.
We have already revamped and re-branded our initiatives for children and young people. ABU KIDS is the umbrella under which we have Children's programme exchange between Asian and European broadcasters and ABU CHILDREN'S DRAMA CO-PRODUCTION. This is an annual co-production initiative developed in co-operation with the Japan Broadcasting Corporation (NHK), now in its 17th year.
The role of ABU in media for national development in the region had significantly boosted the standing of the union in the world. Such prominent status comes with great responsibility of leadership and the Union is working very hard to keep its leadership in the world of broadcasting. We will continue the conversation for a better, safer, fairer and more prosperous world for our children and grandchildren going on all our platforms and forums.
The 2020 was an unforgettable year that we all wish to forget. At the beginning of 2021 our hopes are for a much better 2021. A year in which some sort of normality will resume. The ABU family hopes to meet in person in beautiful Hanoi, Vietnam, for the 58th ABU General Assembly and Associated Meetings. See you in Hanoi at the end of the year!
VOV: Thank you very much!