Vietnam's new leadership makes headlines in Algeria
Wednesday, 19:52, 07/04/2021
Algerian media has published extensive coverage of Vietnam's new leadership as well as the country's impressive economic achievements amid the adverse impact of COVID-19.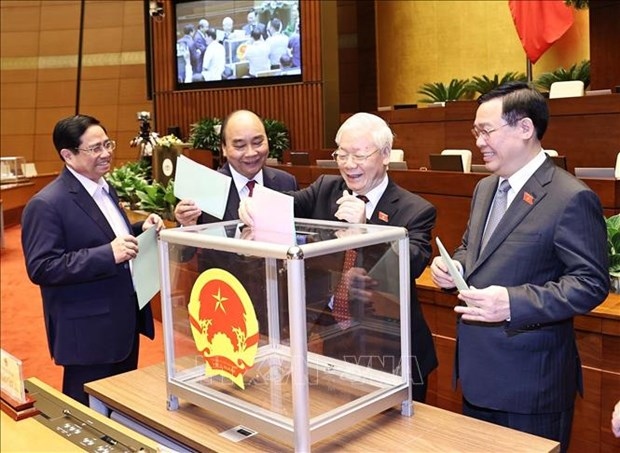 Prestigious newspapers and websites such as El-Moudjahid, Cresus, Reporters, La Patrie-news, Culture-Algerie, Reseau-international, and Algerie360 ran articles saying the newly-elected leaders have high prestige.

They also commended the socio-economic and diplomatic achievements Vietnam recorded during the 2016-2021 period, most notably the successful implementation of the dual goals of containing the pandemic and maintaining economic growth last year.

According to the articles, with his rich experience, Prime Minister Pham Minh Chinh is expected to help the Government overcome the existing difficulties and challenges to fulfil the strategic targets set for the next five years.

They also lauded Vietnam's rising position in the international arena, especially it assuming the United Nations Security Council Presidency this month, adding that this is the second time the country has held the seat in the 2020-2021 tenure.

It presents a major opportunity for the country to contribute to peace, security, and prosperity in the region and the world in a more active, proactive, and responsible manner, the articles said.

While highlighting the traditional relations and friendship between Vietnam and Algeria, the articles also noted that many fields of endeavour are yet to match potential, especially in economy, trade, and investment.

The authors believe that the new Government in Vietnam will adopt suitable mechanisms and policies to further step up bilateral ties.

Vietnamese Ambassador to Algeria Nguyen Thanh Vinh said the articles contribute to promoting Vietnam's image and raising understanding among Algerians, particularly young people, about the country as well as the bilateral relationship.