Vietnamese, Chinese coast guards augment cooperation in maritime law enforcement
Wednesday, 18:26, 07/12/2022
VOV.VN - The Vietnam Coast Guard (VCG) and the China Coast Guard (CCG) held high-level talks aimed at promoting co-operation in maritime law enforcement in the region within the framework of an exchange programme held on December 7 in Hanoi.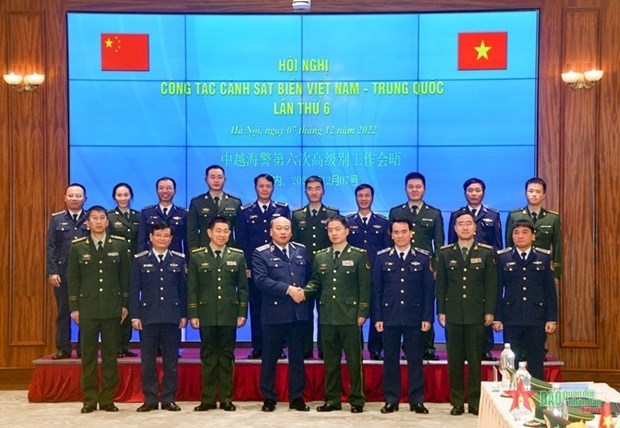 Representatives of the two agencies took time to exchange and study important common perceptions at the talks between party and state leaders of the two countries on October 30, as well as related contents at the "joint statement on continuing to promote and deepen the Vietnam-China comprehensive strategic cooperative partnership" issued on November 11.  

They reviewed co-operation activities which have happened this year, as well as initially agreeing on plans moving into 2023. 

Since the break out of the COVID-19 pandemic, both sides have overcome difficulties, flexibly adapted to the pandemic, and applied practical, effective, and safe methods to deploy exchange and co-operation activities.

Maritime law enforcement ties between both sides has recorded remarkable results, having successfully organised joint patrols and exercises in the waters of the Gulf of Tonkin, focusing on activities aimed at educating fishermen and organising search and rescue exercises at sea.

The coast guards of the two countries also expressed a strong desire to continue strengthening ties in four areas, including establishing a level-2 contact point between the Coast Guard Region 1 Command of the VCG and the CCG's Nanhai bureau. This will be in charge of informing each other about violations of the two countries' ships, organising joint patrols, along with co-ordinating to handle unexpected incidents in the waters of the Gulf of Tonkin.
Moving forward, next year will see both sides continue to follow the important common perceptions reached by the leaders of the two Parties and countries in the MoU on cooperation between the Vietnam Coast Guard Command and the China Coast Guard, respect the two countries' requirements for COVID-19 prevention and control, and renewing and expanding co-operation forms.
The agencies will therefore organise two joint patrols in the waters adjacent to the demarcation line in the Gulf of Tonkin, professional exchanges, and search and rescue exercises. 
Every month the two sides will notify each other on information related to violations of fishing vessels and promptly handle incidents arising at sea. They will also work to restart visits of the coast guard ships to each other and hold exchanges between young officers.