Vietnamese, Belarusian deputy foreign ministers hold political consultation
Wednesday, 17:08, 12/01/2022
VOV.VN - Deputy Foreign Minister To Anh Dung and his Belarusian counterpart Nikolai Borisevichon on January 12 co-chaired a political consultation between the two foreign ministries to discuss bilateral cooperation and regional and international issues of shared concern.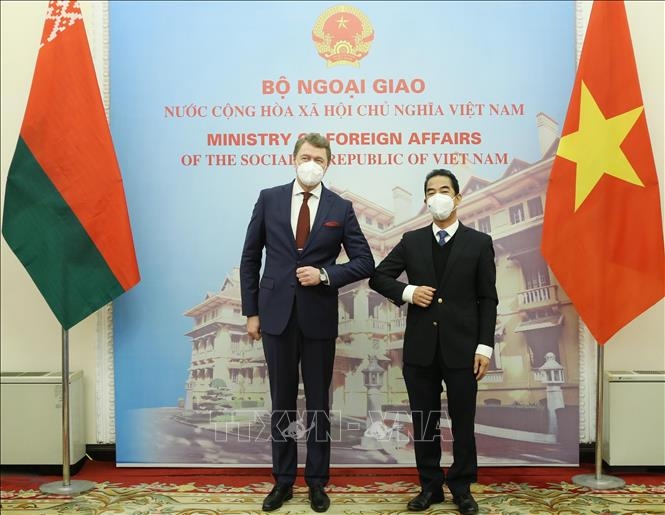 The two Deputy FMs reviewed co-operation between the two countries across a variety of fields, with both sides agreeing on a range of measures to further strengthen bilateral relations, including restoring delegation exchanges at all levels moving into the new normal, and expanding co-operation in the fields of defence, security, economics, trade, investment, education, culture, tourism, and local co-operation.
Deputy Minister Dung highly appreciated the working visit to Vietnam by the Belarusian diplomat, while affirming that the nation's wish to develop the ties of traditional friendship and all-around co-operation with Belarus.
The mutual donation made by both nations of medical equipment and supplies serving COVID-19 prevention and control in December, 2021, serves as living proof of the friendship between the two peoples, he said.
Furthermore, the Vietnamese Deputy FM showed his elation at seeing bilateral trade turnover recovered in 2021 compared to before the COVID-19 pandemic. He also put forward a suggestion that the two countries make better use of the incentives of the Free Trade Agreement (FTA) between Vietnam and the Eurasian Economic Union (EEU), of which Belarus is a member, in order to increase trade exchanges in the near future.
In response, Deputy FM Borisevich expressed his pleasure at visiting Vietnam on the occasion of the two countries' 30th anniversary of diplomatic relations, which first began in 1992. He stated his great appreciation and congratulated the Vietnamese side on successfully completing its role as a non-permanent member of the UN Security Council for the 2020 to 2021 term. Borisevich also emphasized that the Eastern European nation desires to step up co-operation with their Vietnamese partners across a multitude of fields.
With regard to international and regional issues of mutual concern, the two diplomats agreed that both sides will continue to boost their cooperation and offer mutual support at international forums in the future, thereby contributing to peace and stability in the region and the world as a whole.
The Belarusian Deputy FM used the occasion to hand over a note affirming that Belarus will support Vietnam's candidacy for a seat in the UN Human Rights Council in the 2023-2025 term.