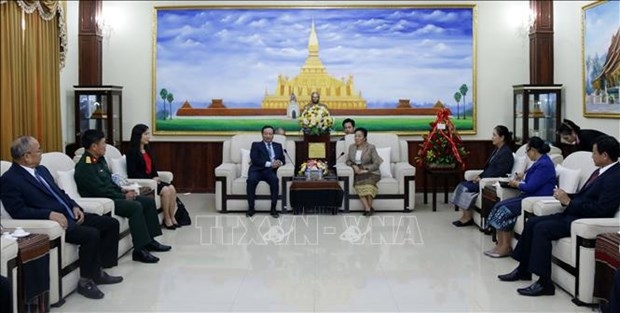 Hung said the birth of the Lao People's Democratic Republic is historically significant to not only the people of Laos but also those of Vietnam.

Under the LPRP's leadership, the country has seen remarkable and comprehensive achievements, with improved living standards and an increasingly heightened position on the regional and global stage over the last 45 years, he said.

The ambassador also expressed his delight at the strong development of relations between the two Parties, States, and people of Vietnam and Laos over recent years despite the challenges, even the COVID-19 pandemic.

He said he is confident that the LPRP's upcoming 11th National Congress will be a great success for the party to continue guiding the Lao people towards greater future achievements.

Vietnam will do its utmost to constantly strengthen the special relationship between the two countries, making it even stronger and more effective in the future, Hung stressed.

Head of the LPRP Central Committee's Commission for External Relations, Sounthone Sayachak, and Minister of Foreign Affairs Saleumsay Kommasith thanked Hung for his gesture, saying the achievements of the Party and the people of Laos could not have been made without the help of Vietnam.

Sayachak, for her part, highlighted Vietnam-Laos relations over the last 45 years, saying the two countries have stood side-by-side to support each other's development and response to COVID-19.

The two officials took this occasion to thank the Vietnamese Party and people for their valuable, timely, effective and wholehearted support and assistance over the past 45 years.