Vietnam prioritises co-operation with US in dealing with war aftermath
Tuesday, 16:13, 07/06/2022
VOV.VN -Deputy Defence Minister Hoang Xuan Chien has affirmed that the nation continues to place great importance on co-operation with the United States to overcome the consequences of war.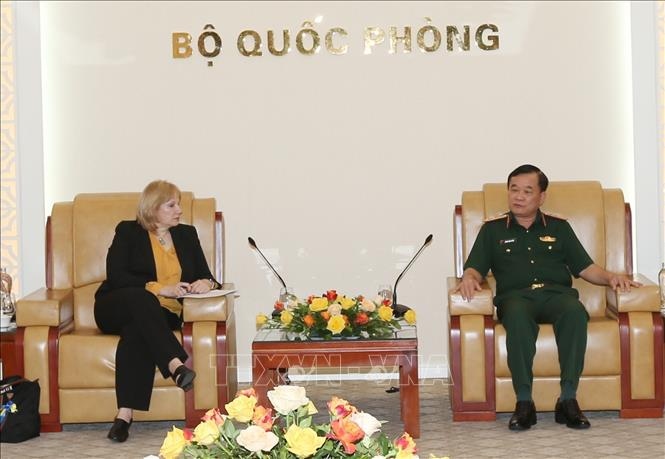 The Vietnamese defence official made the statement during a reception held on June 7 in Hanoi for Ann Marie Yastishock, mission director in Vietnam of USAID, and Colonel Thomas Stevenson, US Defence Attaché to Vietnam, who came to mark the end of their working term in the country.
Senior Lieutenant General Hoang Xuan Chien congratulated Yastishock and Col. Stevenson on their successful tenure, while simultaneously recognizing their efforts to maintaining and developing positive relations between the two countries and the two defence ministries, as well as the joint comprehensive partnership.
In recent times, both sides have achieved an array of outstanding results, thereby making positive contributions to healing war wounds and consolidating trust between the two countries.
Most notable, both sides have finalized the dioxin detoxification project at Da Nang airport and continued to carry out several projects on dioxin detoxification at Bien Hoa airport, thereby improving the quality of life for Vietnamese people with disabilities in localities which were heavily sprayed with Agent Orange. This is along with dealing with the consequences of bombs, mines, and toxic chemicals after the war.
The two sides also implemented a Memoranda of Understanding (MoU) on overcoming the consequences of mines and unexploded ordnance (UXO), as well as boosting co-operation in searching and gathering the remains of Vietnamese martyrs.
Defence co-operation between the two countries has also yielded positive results in terms of dialogue, delegation exchanges, training, search and rescue missions, humanitarian assistance, and UN peacekeeping operations.
The Deputy Minister therefore expressed his hope that Yastishock and Col. Stevenson in their new positions will continue to pay attention to and support the nation in propelling the comprehensive partnership forward in the future.
Yastishock and Col. Stevenson stated their honour at having the chance to work in Vietnam, while recalling their positive feelings for the country and local people, as well as the results of co-operation between the two countries over recent times, especially the concerted efforts to overcome the COVID-19 pandemic.
The two US guests thanked the Vietnamese Ministry of National Defense for creating favourable conditions and directing the Ministry's relevant agencies to co-ordinate in implementing co-operation fields over recent years. They also pledged to make further positive contributions by providing continued support for Vietnam-US relations in any capacity.