Vietnam, Mexico hold sixth political consultation
Thursday, 11:10, 22/07/2021
VOV.VN - The sixth version of the Vietnam - Mexico political consultation was held on July 21 via a videoconference to discuss each country's current situation, whilst also looking at implementing several measures to push up bilateral ties and issues of common concern.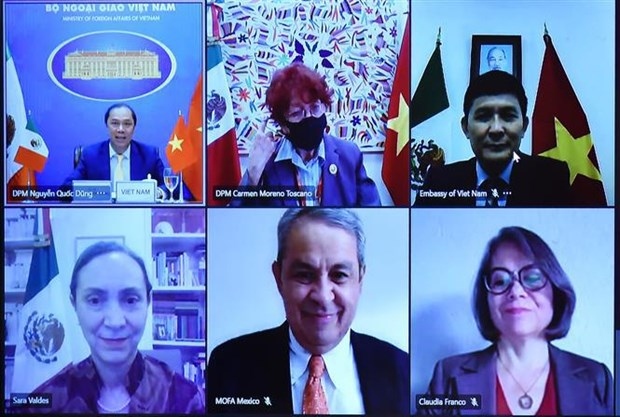 Vietnamese Deputy Minister of Foreign Affairs Nguyen Quoc Dung joined with Mexican Undersecretary of Foreign Affairs Carmen Moreno Toscano to brief each other about their respective countries' response to COVID-19, along with efforts aimed boosting socio-economic development and ensuring continued social security.

The pair reviewed areas of bilateral co-operation, whilst discussing ways to further strengthen ties of traditional friendship and collaboration to work towards the establishment of a suitable partnership between the two nations moving forward.
Both sides therefore consented to maintaining close co-ordination aimed at sustaining the upward trend in their respective countries' ties, promoting high-level mutual visits and meetings when possible, along with effectively maintaining co-operation mechanisms. This is in addition to encouraging contact and co-operation in different forms between Vietnamese and Mexican ministries and sectors.
Deputy Minister Dung showed his delight at the vigorous development of economic and trading links the nation enjoys with Mexico, noting that the Central American country is currently the third largest Vietnamese trading partner in Latin America, with trade  reaching US$3.68 billion in 2020.
In response, Undersecretary Toscano affirmed Vietnam to be one of Mexico's most important political and economic partners in Asia, especially when both are members of the Comprehensive and Progressive Agreement for Trans-Pacific Partnership (CPTPP).

The pair used the event to agree to accelerate negotiations regarding some agreements in order to finalise the legal framework for co-operation in spheres such as politics, diplomacy, the economy, finance, security, defence, plant and animal quarantine, along with education and training.

They also compared notes regarding a number of international and regional issues of common concern, thereby agreeing to continue co-ordination and mutual support at international organisations and multilateral forums of which Vietnam and Mexico are both members. This includes the UN, the World Trade Organisation (WTO), and the Asia-Pacific Economic Cooperation (APEC) forum.

Both countries will also strive to enhance ties between the Association of Southeast Asian Nations (ASEAN) and the Pacific Alliance, they stated.