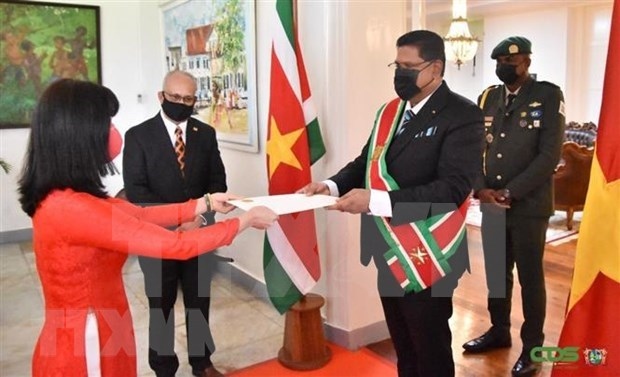 Ambassador Hoa congratulated the Surinamese people on their numerous economic achievements recorded under the leadership of President Santokhi.

She underlined the necessity of expanding the bilateral economic partnership moving forward as it is currently far from matching both sides' potential.
Upon welcoming the ambassador to his country, President Santokhi expressed his respect for the Vietnamese people, promising that he will provide the best conditions for Vietnamese nationals living in the South American country.

This comes after the Vietnamese Ambassador held a meeting with Surinamese Minister of Foreign Affairs, International Business and International Cooperation Albert Ramdi on November 12, during which the Minister praised the Vietnamese role in the wider international community.
He added that Suriname will support the nation at multilateral forums and ramp up the exchange of all-level delegations in the near future, adding that they are keen to learn from Vietnamese experience in post-harvest processing, particularly with regard to rice and fisheries.

The Vietnamese diplomat also met with Jaynath Padarath, president of the Suriname Chamber of Commerce and Industry, in order to discuss ways in which to accelerate trade and expand co-operation in agriculture, fisheries and wood, as well as in the organisation of training courses and exchange schmes in agriculture.

Ambassador Hoa also held discussions with the Vietnamese community in the South American country, the majority of whom used to work as sailors on fishing vessels in Suriname, the Republic of Korea, and India.