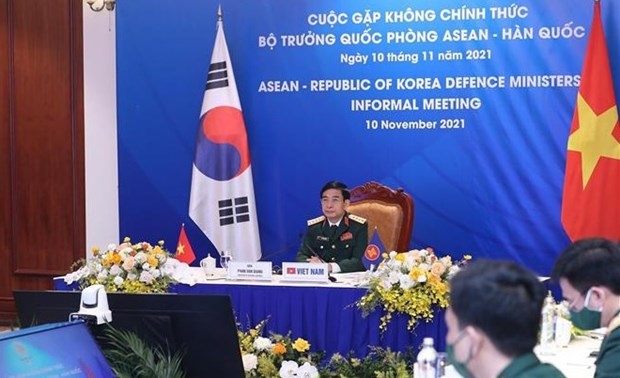 He noted that the RoK's commitments have contributed to consolidating peace and stability throughout the region, including in the East Sea.

The Minister voiced his support for the RoK's proposals relating to measures aimed at improving ASEAN's peace-keeping capacity, as well as their organisation of the 2021 Seoul UN Peacekeeping Ministerial in December.

The RoK has also made contributions to ASEAN-led co-operation mechanisms, especially the ASEAN Defence Ministers' Meeting Plus (ADMM), Minister Giang said. He went on to express his hope that the country will successfully hold the co-chairmanship of the ADMM-Plus Experts' Working Group on Cyber Security with Malaysia for the 2021 to 2023 tenure.

Speaking positively about the RoK's capacity in COVID-19 response, the Minister thanked the country for its support of ASEAN members, particularly Vietnam, in this regard.

The duration of the meeting was co-chaired by Brunei's Second Minister of Defence Major General (Retired) Dato Paduka Seri Haji Awang Halbi bin Haji Md Yussof and RoK Defence Minister Suh Wook.
RoK Minister Suh proposed a plan of action regarding defence action between ASEAN and the RoK, whilst sharing his views on multilateral co-operation in tackling non-traditional security challenges and cybersecurity threats in ADMM-Plus.

He also touched upon a range of relevant measures aimed at increasing the capacity of ASEAN's peacekeeping forces.

Ministers participating in the event were appreciative of the RoK's action plan that aims to concretise its enhanced New Southern Policy, in line with the ASEAN Outlook on the Indo-Pacific (AOIP), thereby creating a foundation to guide defence ties between the two sides.