Vietnam hails formation of Lebanon's new government
Thursday, 12:01, 21/10/2021
VOV.VN - Nguyen Phuong Tra, deputy permanent representative of Vietnam to the UN, has welcomed the formation of a new government in Lebanon, expressing hope that it will strive to redouble efforts to conduct necessary reforms in an effort to bring the country out of the current crisis.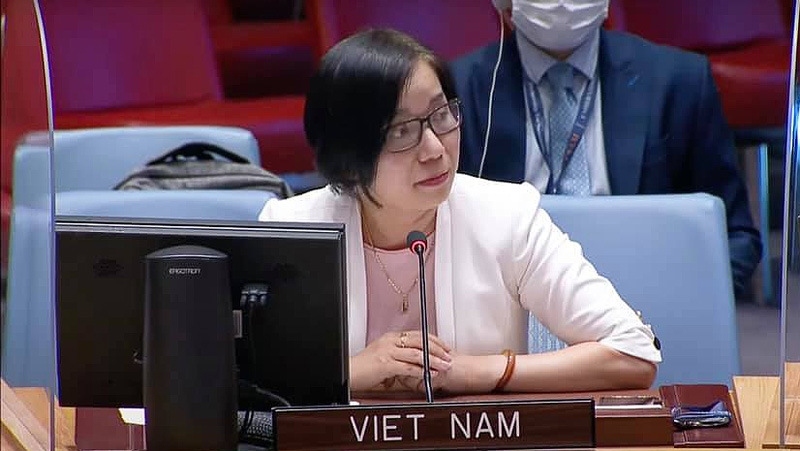 Upon addressing the UN Security Council's meeting held on October 20 regarding the implementation of the council's Resolution 1559 related to the Lebanese situation in October, Tra expressed her appreciation for international efforts led by France and the UN to support the Lebanese people. This was alongside calls for relevant Lebanese authorities to exert greater efforts to consolidate the confidence of the international community. This includes speeding up the investigation on the explosion in Beirut in August, 2020, urging all parties to exercise restraint, and to also avoid any actions and statements that may contribute to increasing tensions.

She also called on relevant parties to continue to respect the territorial integrity and sovereignty of Lebanon in line with resolutions 1559 and 1701 of the UN Security Council.
UN Deputy Secretary-General Khaled Khiari assessed there has been almost no progress made in terms of the implementation of Resolution 1559 in recent times, particularly as Lebanon continues to face challenges. These issues include an unstable socio-economic situation, increasing poverty and unemployment rates, and sovereignty violations.

First adopted in 2004, Resolution 1559 calls for the disarmament of all militias and the extension of government control over all Lebanese territory.
Furthermore, Ambassador Pham Hai Anh, deputy permanent representative of Vietnam to the UN, upheld the role of regional co-operation and applauded the efforts made in order to promote relations between Great Lakes countries. This comes after they were recently put forward during a meeting of the UN Security Council (UNSC) held on the same day to adopt a presidential statement regarding the Great Lakes.
The nation also voiced concerns regarding the situation in the region whilst underscoring the need to tackle the root causes of instability.
He added that the humanitarian situation remains worrisome, especially in eastern Congo. He went on to express concern over the plight of millions of displaced people and refugees, in addition to more than 27 million people in Congo that face crisis‑level food insecurity. 
Amid these severe challenges, he went on to add further encouragement to the intensification of co-operation to implement the Peace, Security and Cooperation Framework, whilst also strengthening the management of nature resources and to tackle threats posed by various armed groups.
The meeting was held under the chair of Cabinet Secretary for Foreign Affairs of Kenya Raychelle Omamo, council president for October.