Vietnam, France expect stronger all-around cooperation
Wednesday, 11:17, 29/09/2021
VOV.VN - Vietnamese Ambassador to France Dinh Toan Thang held a working session with French parliamentarians and members of the France-Vietnam Friendship Parliamentarians' Group in the French Parliament on September 28 following an invitation by Stéphanie Do, chairwoman of the group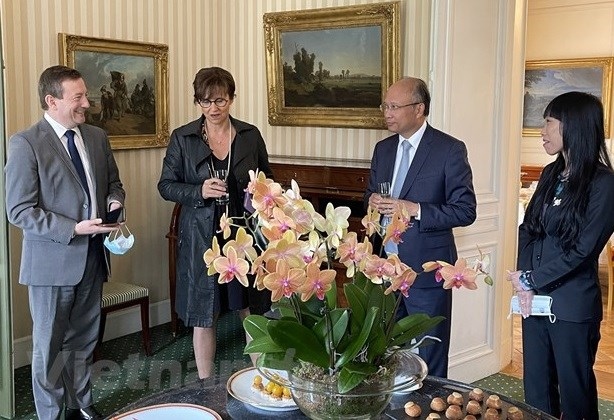 During the meeting, the Vietnamese diplomat briefed participants on the nation's situation and the bilateral relationship between both sides.
The participants also compared notes regarding international and regional issues of shared concern.

French parliamentarians from various political parties used the event to express their appreciation for  joint relations and the Vietnamese role in the European country's foreign policy in the region.

They showed a keen interest in Vietnamese COVID-19 prevention activities, the nation's measures to promote post-pandemic economic recovery, and its policy on international economic integration, including measures taken against counterfeit goods.
The French parliamentarians paid heed to Vietnamese solutions to respond to climate change, including policy on energy development, the current concerns of young people, characteristics of Vietnamese socialism, and aspects of the country's foreign policy, including those in the Asia-Pacific region.

Ambassador Thang and the French parliamentarians also used the occasion to debate future prospects for the joint strategic partnership in the fields of politics, economy, culture, education, training, and security–defence. This is in addition with co-ordination between both sides in international documents as well as at multilateral forums such as the UN and the International Organisation of La Francophonie (OIF).

With regard to international issues, participants shared their assessments of ASEAN's role in solving regional issues, such as the Myanmar situation and the questions of sovereignty in the East Sea, as well as co-operation with the EU to deal with global and regional challenges.

The two sides also consented to strengthening the exchange of information, boosting co-ordination to promptly contribute to solving difficulties and finding new opportunities, whilst collaborating across multiple fields in order to further develop the mutual relations in the near future.
 Ambassador Thang hailed the contributions of the France-Vietnam Friendship Parliamentarians' Group in the French Parliament in general, highlighting its chairwoman in particular for developing multifaceted relations between the two countries. In addition, the relationship between the two law-making bodies has also developed, with the local diplomat saying that these have importantly contributed to promoting the joint strategic partnership.

He suggested that both countries further ramp up co-operation in a more substantive manner as a means of dealing with challenges posed to each nation and each region, respectively.