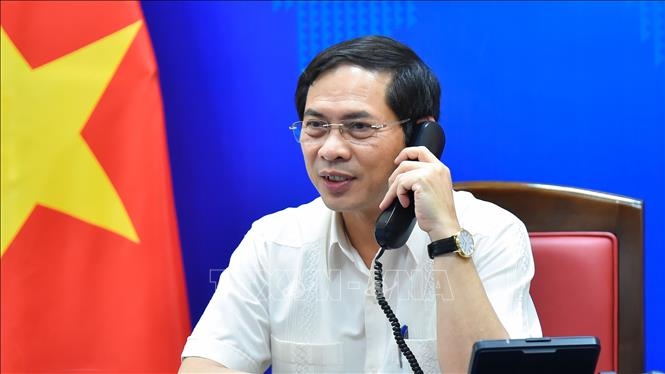 The two diplomats expressed their delight at the sound Vietnam-Egypt friendly relations over the past time, and pledged to further deepen bilateral cooperation in a wide range of fields.
They agreed to soon resume the exchange of delegations at all levels that has been disrupted due to the COVID-19 pandemic, as well as closely coordinate in dealing with issues of mutual concern and support each other's candidacy at international organizations.

Minister Bui Thanh Son suggested the Egyptian side support Vietnam and the African Union (AU) in establishing official relations soon.
In terms of economics, the two ministers affirmed their joint efforts to raise bilateral trade turnover to US$1 billion as agreed by the two countries' senior leaders, and continue to exchange experience and discuss measure aimed at promoting post-pandemic tourism recovery.
During the phone call, the pair also compared notes on the Grand Ethiopian Renaissance Dam (GERD), and shared views in support of efforts to resolve the issue peacefully through negotiation.
On this occasion, Son invited Egyptian Foreign Minister Sameh Shoukry to visit Vietnam. Minister Shoukry accepted the invitation with pleasure and expressed his wish to welcome Minister Bui Thanh Son to visit his nation at an appropriate time in the near future.