Vietnam considers Samsung a successful investment model, PM Chinh says
Thursday, 19:24, 20/01/2022
VOV.VN - The Vietnamese Government regards Samsung as a successful investment model in the nation, Prime Minister Pham Minh Chinh said while receiving Choi Joo Ho, Director General of Samsung Vietnam Complex in Hanoi on January 20.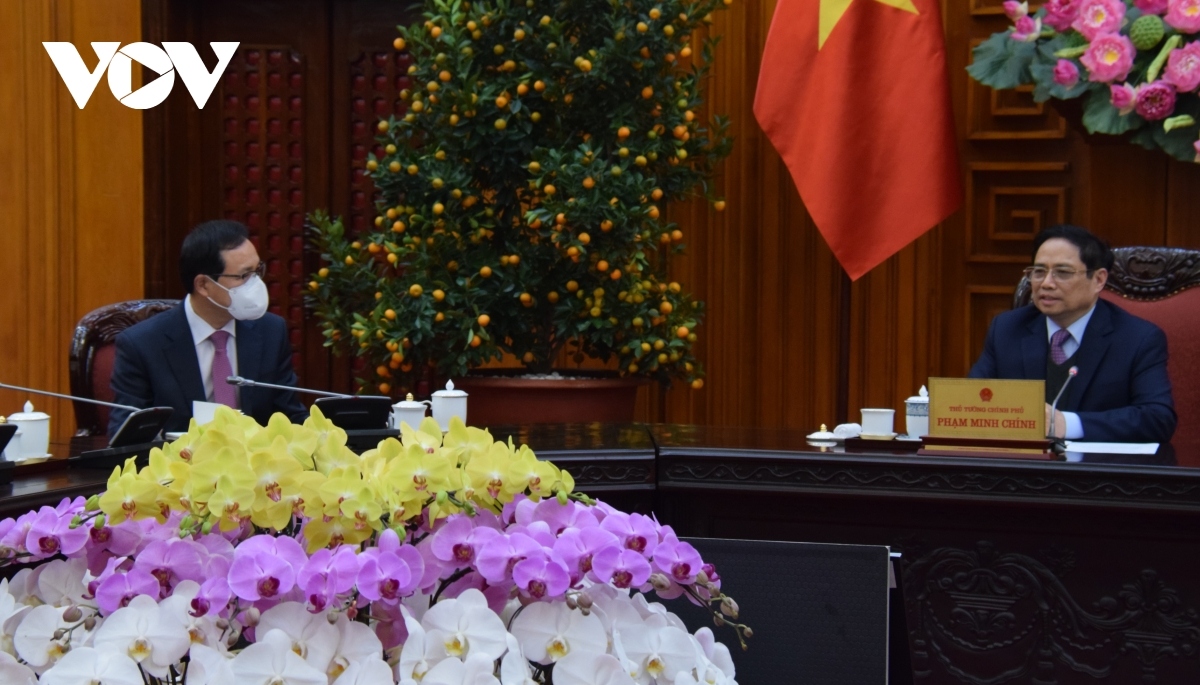 The Vietnamese Government chief emphasized his readiness to listen, hold dialogues, and create the most favorable conditions for businesses and investors, including Samsung. The strategic cooperative partnership between Vietnam and the Republic of Korea is continuing to grow and flourish in which, Samsung's cooperation and investment activities are viewed as a typical case in point, Chinh told his guest.
PM Chinh hailed the group's effective business performance in Vietnam amid the COVID-10 pandemic, with the total export revenue in 2021 seeing an increase of about 14% to more than US$ 74 billion over the same period from 2020.
The Vietnamese cabinet leader also praised Samsung for considering Vietnam a global base with a serious and long-term investment strategy. Samsung-invested projects are among the FDI ones with fast implementation progress in Vietnam that account for large proportion of Samsung's revenue and profit globally.
He also highly appreciated Samsung for speeding up the construction of the group's Hanoi-based largest Research and Development (R&D) center in Southeast Asia, promoting activities to support Vietnamese businesses.
Chinh proposed the group continue to help Vietnamese enterprises improve their capacity in order to become involved in Samsung's global value chain and research and development activities in Vietnam.
He said he hopes that Samsung will help Vietnam further increase the localization rate, continue to connect partner businesses in order to run their investment in the nation in the context that FDI inflows in the world are repositioning supply and value chains.
The Government leader reiterated his desire to enable Vietnamese people join the top leadership team of the Samsung Complex as well as at Samsung's facilities and suggested that Samsung should outline a training strategy for the scheme.
For his part, Choi Joo Ho applauded Vietnamese Government's pandemic containment efforts and major achievements in socio-economic development of Vietnam in 2021, with the import and export turnover posting an increase of 23 %.
He said, thanks to the Government's timely direction on safe, flexible adaptation, effective pandemic control measures to support businesses as well as Samsung in particular, Samsung has quickly overcome major difficulties caused by the pandemic, with exports reached nearly US$ 65.5 billion, up 15.8% compared to 2020.
The Samsung leader also informed about the progress of Samsung's projects in Vietnam, confirming that the R&D Center will be inaugurated earlier in 2022.