Vietnam and Iran set sights on US$2 billion bilateral trade
Wednesday, 11:34, 07/12/2022
VOV.VN - Iranian Vice President Seyyed Mohammed Hosseini has called for greater efforts to be made by both Vietnam and Iran to elevate two-way trade to US$2 billion moving forward.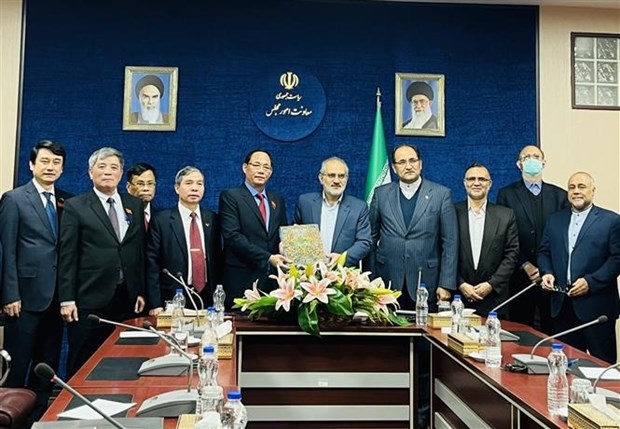 National Assembly (NA) Vice Chairman Tran Quang Phuong met with Iranian VP Hosseini on December 6, received Minister of Defence Qaraie Ashtiani, and visited Isfahan province, as part of his working visit to the Middle Eastern country from December 4 to December 6.
During the course of the meeting, VP Hosseini said in its "Look East" policy, Iran places great importance on relations with Southeast Asia, specifically Vietnam.

There exists huge potential for the two countries to expand ties, although their economic and trade links remain limited and are not commensurate with bilateral trade ties, he said. He therefore urged both sides to strive to lift two-way trade to US$2 billion in the near future, as well as speeding up the implementation of agreements and memorandums of understanding (MoU) signed and agreed between the two countries.
Iran remains ready to support Vietnam with its plans to organise a cultural week in Iran, whilst it hopes to welcome more tourists from Southeast Asia, especially those from Vietnam, he stated.

During the working session held alongside the Vietnamese official, Iranian Defence Minister Ashtiani proposed that the two sides enhance the exchange of all-level delegations in order to share experience in technology, military medicine, information technology, and demining. 

In response, NA Vice Chairman Phuong said he supports bringing the mutual relationship to a new height for the benefit of the two peoples, while suggesting the two sides co-ordinate closely to organise activities to celebrate the 50th founding anniversary of Vietnam-Iran diplomatic ties ahead in 2023.

He underscored the need to promote the exchange of high-ranking delegations and parliamentary specialised agencies, as well as the sharing of information and experience in law-making and supervision. This includes reviewing and promoting the implementation of agreements and MoUs signed between the two countries.

During the meeting with Governor of Isfahan Mortazavi, NA Vice Chairman Phuong affirmed that the two sides have great potential for to develop ties, as well as localities of the two countries building links. He went on to express hope that Vietnamese and Iranian localities will propel twinning relations forward in the future. 

Governor Mortazavi said the Iranian locality hopes to welcome Vietnamese delegations in order to explore and discuss the possibility of building further ties, affirming the readiness to organise trade and investment promotion activities for businesses of the two sides.

He used the occasion to suggest that the Vietnamese side consider swiftly establishing a twinning relations between Isfahan and Ho Chi Minh City.

The same day witnessed NA Vice Chairman Phuong and his delegation conclude their working visit to Iran.