Vietnam an important economic partner of Switzerland in SEA
Saturday, 01:30, 27/11/2021
VOV.VN - Swiss President Guy Parmelin highlighted Vietnam as an important economic partner of his nation in Southeast Asia during his talks with President Nguyen Xuan Phuc in the City of Bern on November 26.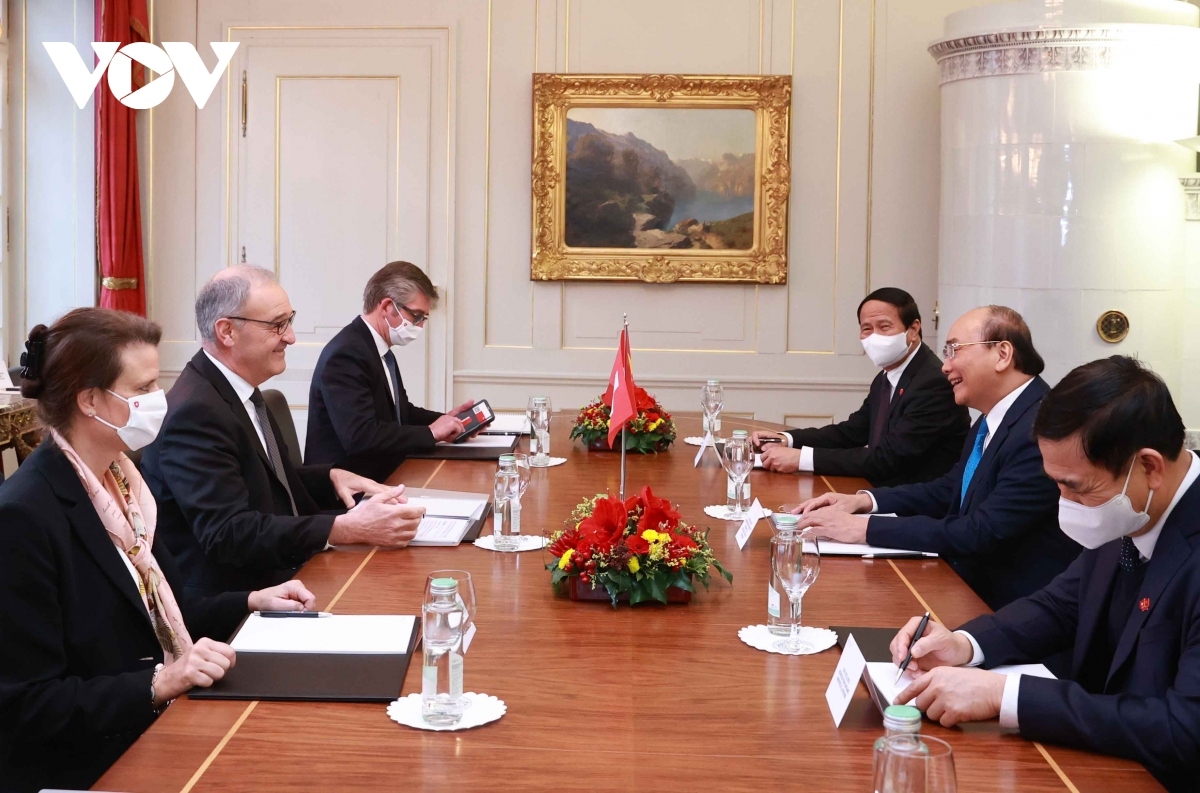 The two leaders noted with satisfaction that over the last half century, the time-honoured friendship and cooperation between the two countries have been growing steadily across a variety of fields.

They discussed areas of cooperation and reached a consensus on a score of measures to propel Vietnam - Switzerland relations forward. They consented to intensify exchanges and meetings to further deepen mutual understanding and trust and step up bilateral cooperation in all aspects.
The pair agreed to redouble efforts to soon conclude negotiations on a free trade agreement between Vietnam and the European Free Trade Association (EFTA). They also expressed their elation at the progress in scientific - technological cooperation and concurred to further enhance links in science - technology and education - training.

President Parmelin expressed his appreciation for Vietnam's breakthrough achievements in socio-economic development and COVID-19 containment, while emphasizing that Vietnam is an important economic partner of Switzerland in Southeast Asia.
President Phuc, in turn, affirmed that the State and people of Vietnam always keep in mind and treasure the precious support and assistance that Switzerland has given to their struggle for national independence in the past as well as the current process of national development.

Phuc asked the Government of Switzerland to encourage Swiss enterprises to invest in Vietnam, while noting that the Southeast Asian nation is working hard to improve the business - investment climate and create favourable conditions for foreign firms to operate in the long term.

He thanked the Swiss Government for providing ODA for Vietnam. Meanwhile, the Swiss President assessed Vietnam as an effective ODA using partner, adding that the Swiss Government has decided to continue to provide Vietnam with 70 million CHF (over US$ 75.6 million) worth of ODA in the 2021-2024 period.

The Vietnamese State leader thanked the Swiss Government for its donation of medical equipment valued at around US$5 million for Vietnam's COVID-19 prevention and control on the occasion of Swiss Vice President Ignazio Casis's visit to Vietnam in August. He suggested both sides beef up cooperation between their enterprises and research facilities in the development, production and distribution of COVID-19 vaccines and treatment drugs.

President Phuc thanked and proposed the Swiss Government continue offering favourable conditions for the overseas Vietnamese community to well integrate into the host society.

The two leaders agreed to bolster cooperation and offer mutual support at multilateral forums and international organisations such as the United Nations and the Asia - Europe cooperation mechanism.

Vietnam consented to help the European nation strengthen its relationship with the Association of Southeast Asian Nations (ASEAN).

Regarding the East Sea issue, Switzerland underscored the importance of ensuring freedom of navigation, compliance with international law, and settlement of disputes via peaceful measures based on transparent dialogue and trust building.
The same day, Swiss President Guy Parmelin hosted a banquet in honour of State President Nguyen Xuan Phuc and his entourage at Lohn Manor.
Following the talks, Vietnamese President Nguyen Xuan Phuc and his Swiss counterpart Guy Parmelin attended a joint press conference, during which both sides agreed to soon finalize negotiations on a free trade agreement (FTA) between Vietnam and the European Free Trade Association (EFTA), of which Switzerland is a member.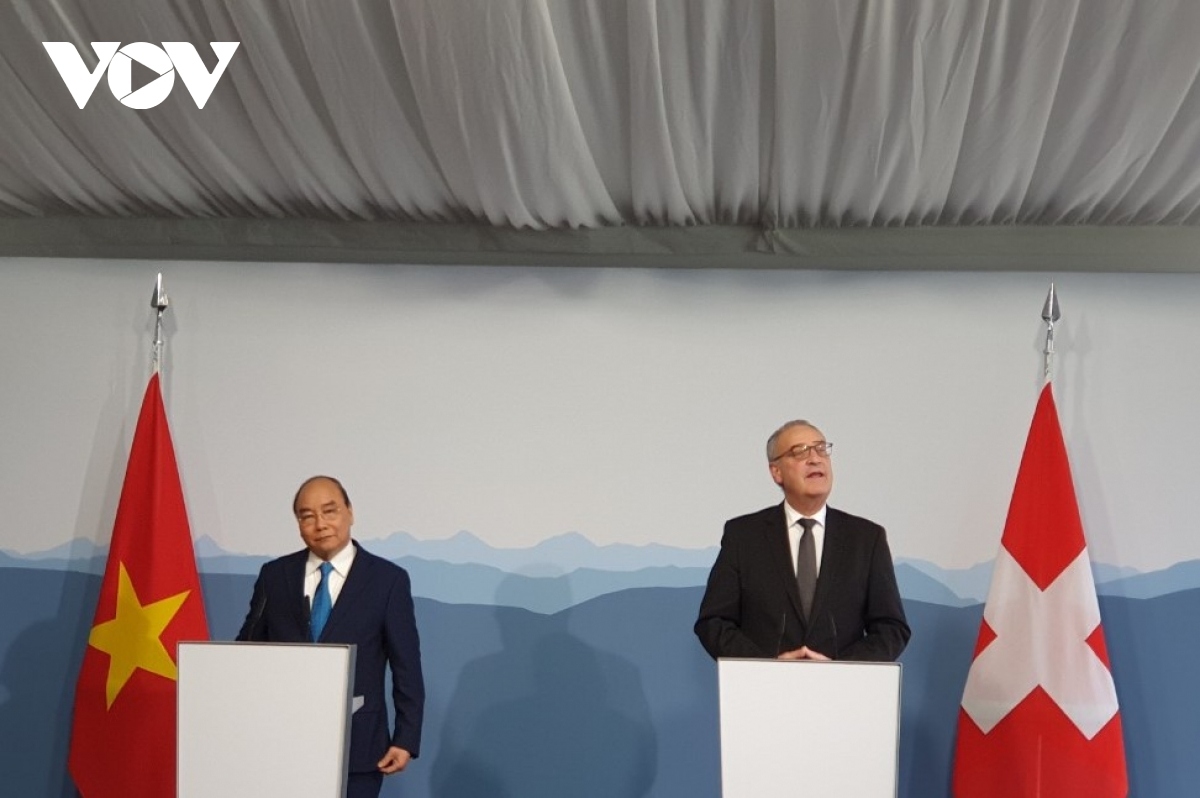 Describing President Phuc's official visit as a new development milestone in Switzerland-Vietnam relations, President Parmelin said the two sides still have plenty of opportunities and huge potential for growth.

The Vietnamese leader noted that he and his Swiss counterpart shared the view that despite development, the bilateral cooperation is still below full potential of both nations, and they agreed to soon conclude the talks on the FTA between Vietnam and the EFTA.

He added Vietnam welcomes the two countries and their businesses promoting innovation cooperation.
Both leaders agreed to elevate the two nations' 2019 letter of intent on innovation, science and technology to a protocol on innovation. Therefore, Vietnam welcomes Swiss firms to cooperate with the Southeast Asian country in innovation and digital economy.

The Swiss President said he desires to sign a free trade agreement (FTA) similar to the deal that Vietnam signed with the European Union, thereby eliminating barriers to goods circulation between the two countries. Another priority is to build a favourable legal framework and effectively enforce intellectual property rights, he said, adding that these are factors that will strongly attract Swiss investors in Vietnam.

President Parmelin informed that he and President Phuc had consented to assign the heads of the two negotiating teams to accelerate the talks on the EFTA-Vietnam FTA.