Trade Minister affirms sufficient fuel supply for local consumption
Wednesday, 13:14, 16/03/2022
VOV.VN - Trade Minister Nguyen Hong Dien on March 16 played down legislators' worries about petroleum supply disruption due to global price volatility, saying Vietnam has a sufficient supply of petroleum products for local consumption.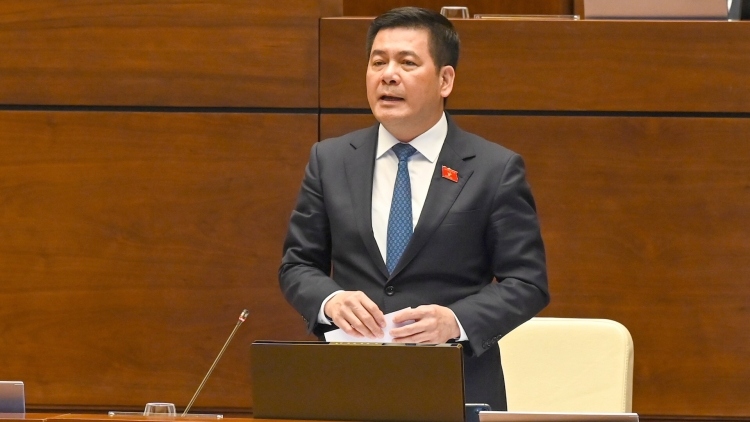 Addressing a hearing at the ongoing National Assembly Standing Committee session, Dien admitted that petroleum prices have recently spiked dramatically in the global market due to supply disruptions in large crude oil producers.
The price hike immediately affected the domestic petroleum market, causing retail prices to go up and a number of filling stations to suspend operations or reduce working hours.
In addition, Dien said, Nghi Son oil refinery that supplies one third of the country's petroleum output suddenly cut its production to 80% and even to 55% of its design capacity due to financial problems.
"The ministry in January reported the situation to the Government and requested key enterprises to import petroleum to make up for the limited supply from Nghi Son refinery and ensure supply," said the minister.
By mid-February, Vietnam had secured a sufficient supply of petroleum for the whole March thanks to the inventory and additional imports of 3 million m3 of petrol. Currently, the average domestic demand for petroleum is about 1.3 million m3/month.
"The ministry also directed the enterprises to import in March twice as much as usual, so petroleum will be no in short supply," Dien assured legislators.
According to the minister, the ministry will strengthen inspections to timely detect and sanction petroleum trading units that make use of price hikes to manipulate the market.
"Through inspections, we found more than 211 retail stores had suspended operations due to technical problems or a limited supply," he said.
He also suggested further reducing taxes and fees if global oil prices keep rising.
The Government recently approved the Ministry of Finance's proposal to cut the environmental protection tax by half to stabilize the domestic petroleum market.  
Minister Nguyen Hong Dien is one of the two Cabinet members to be grilled over burning issues of public concern at the ongoing session of the National Assembly Standing Committee.