President spotlights important role of public security forces
Tuesday, 10:02, 13/07/2021
Public security forces must perform well the tasks of protecting the Party, the State, the regime and national security, and ensuring safety and legitimate interests of people, contributing to safeguarding the national independence, sovereignty and territorial integrity.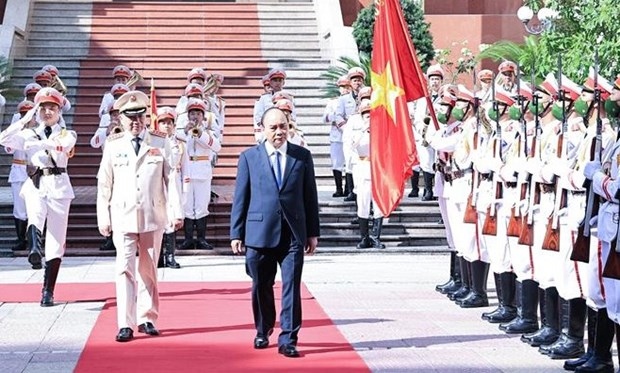 President Nguyen Xuan Phuc made the statement at a ceremony to celebrate the 75th anniversary of the traditional day of the people's public security forces in Hanoi on July 12. 
At the event, the State leader underlined the duties and responsibilities of the forces for maintaining political and social stability and ensuring a peaceful environment, security, order and discipline.
He emphasised the requirement to ensure national security in the context of increasing non-traditional security challenges, saying that in any circumstances, the public security forces must always uphold the principle of ensuring the absolute and direct leadership in all aspects of the Party, the command of the President, and the management of the Government.

They need to determine that economic security protection is an important task of the national security protection, the President said.

In the process of settling complicated security cases, it is necessary to follow the principle of putting the independence, sovereignty, unity and territorial integrity, and national interests first, and always respect legitimate rights and interests of organisations and individuals, he noted.

On the occasion, the President handed over the first-class Fatherland Defence Order to the people's public security force of the Ministry of Public Security, recorgnising its outstanding achievements in safeguarding the national security.