PM seeks to establish relations between Vietnamese cities and Los Angeles
Wednesday, 11:23, 18/05/2022
VOV.VN - Prime Minister Pham Minh Chinh expressed his wish to establish relations between Vietnamese cities and Los Angeles during a meeting with Nina Hachigian, Deputy Mayor of International Affairs for Los Angeles, on the afternoon of May 17 (local time), in San Francisco.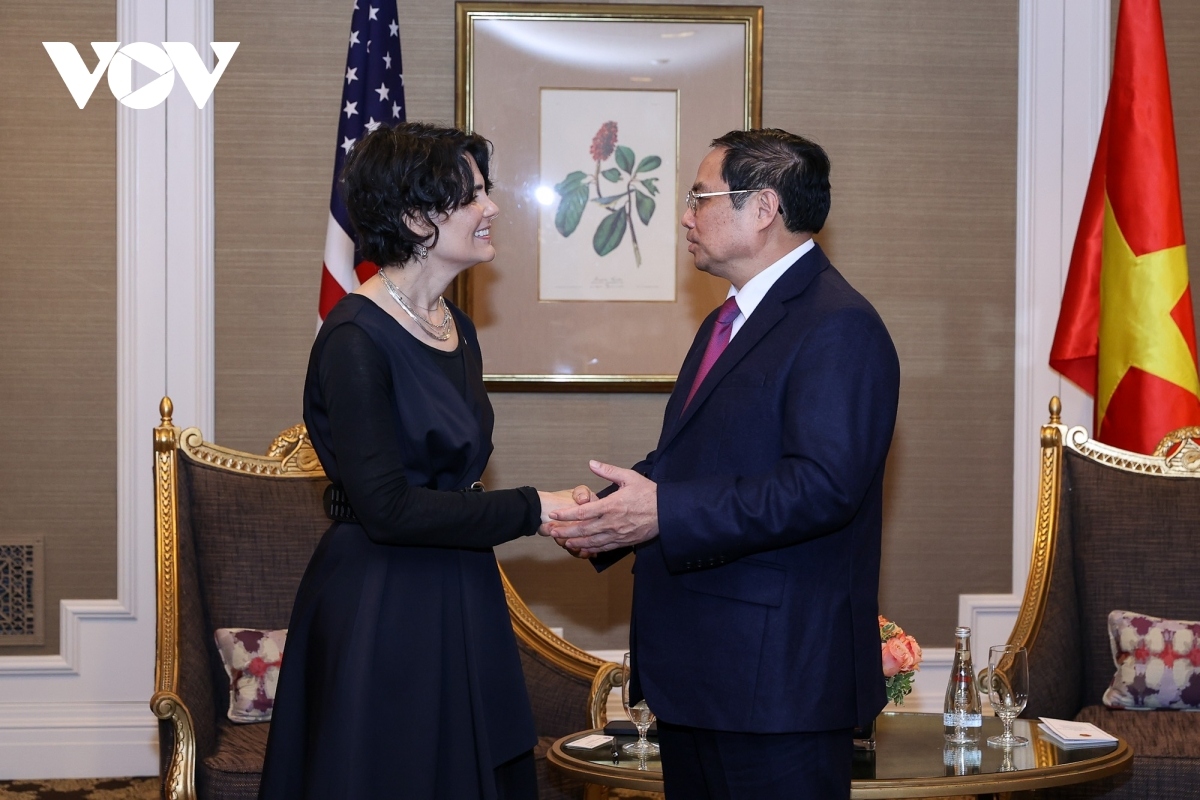 During the course of the meeting, the Vietnamese Government leader expressed his thanks and desire to listen to Hachigian's thoughts and suggestions on the relationship between the two countries, as well as the Vietnamese relationship with other the cities in California. Indeed, Los Angeles is a city that has closeness with Vietnamese people.
The Los Angeles Deputy Mayor conveyed the mayor's warm regards and greetings to PM Chinh and said that as the former US Ambassador to ASEAN, she remains fully aware of how strong the relationship between the United States and Vietnam is.
Dubbed the city of movies, Los Angeles is notable for being the second largest US city that contributes the most to GDP, with the city featuring a diverse economy, such as aviation and green growth-related technology related.
She said she pays close attention to the large Vietnamese community residing within the city and is keen to step up co-operation and exchange activities with the nation. Recently, following the opening of a Vinfast branch, Hachigian expects other Vietnamese firms to follow their lead and open representative offices in Los Angeles.
She has high hope of achieving the goal of strongly strengthening co-operation with Vietnam this year, especially as the US city looks forward to a twin relationship with Hanoi, as well as opening more direct flights to the country, she added.
PM Chinh suggested that both sides ramp up co-operation in economics, culture, science, technology, digital transformation, and climate change adaptation.

He expressed his hope to bolster the export of agricultural and aquatic products to the US market, including Los Angeles, affirming that Vietnamese goods are capable of fully meeting all stringent standards set by the US market.

The Vietnamese Government leader requested that the Deputy Mayor pay closer attention to the investment made by Vietnamese companies in her city, as well as informing her of Vietjet's plan to open a direct air route to Los Angeles.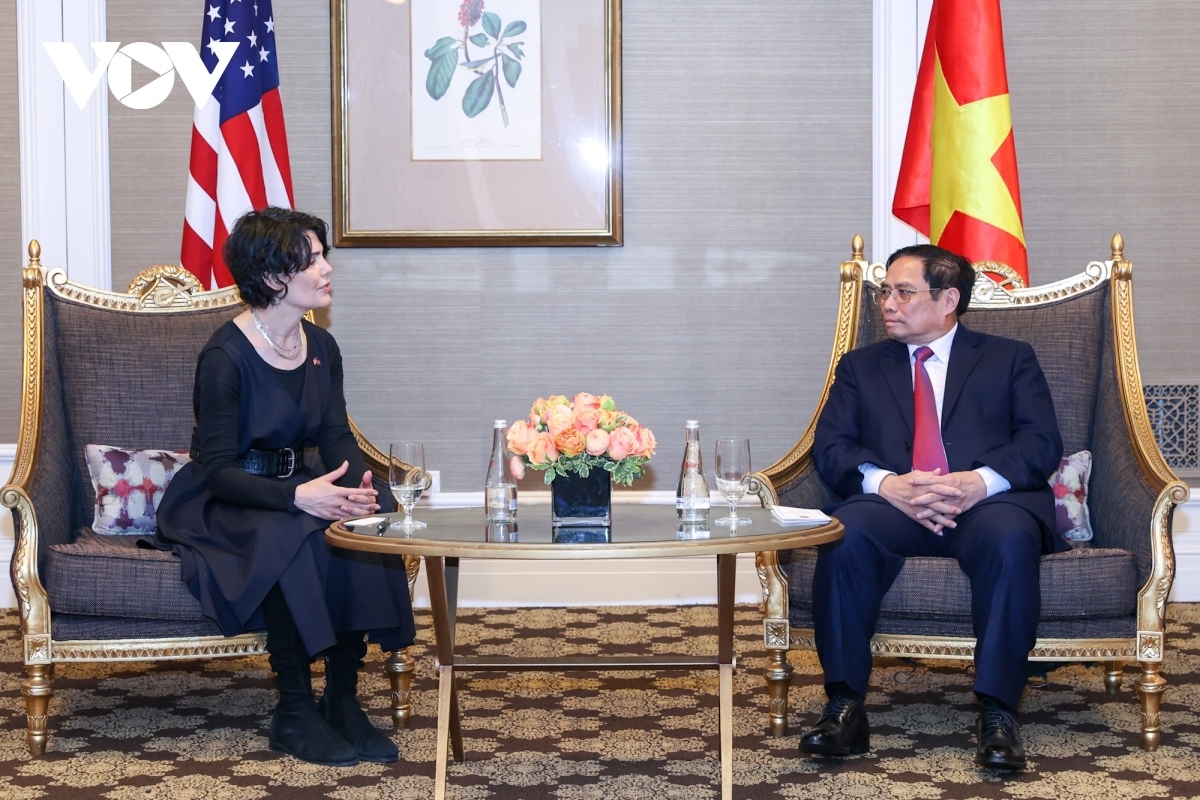 He proposed that Hachigian incentivise US businesses, as well as those in Los Angeles, to invest in the Vietnamese market in the fields of entertainment and cultural industries, particularly as Los Angeles boasts many strengths in these fields.

He also invited the Mayor and Deputy Mayor of Los Angeles to visit the nation to discuss more specific and effective co-operation mechanisms.

PM Chinh said he expects the Deputy Mayor, with her experience as a former US Ambassador to ASEAN, and with the US and ASEAN committing to upgrading their relationship to a Comprehensive Partnership, to make greater contributions to  fostering this partnership. This will therefore being about a range of benefits, peace, co-operation, development, and prosperity for the region.
The same day witnessed PM Chinh attend a forum on innovation and start-ups held by the Asia Society, during which he said Vietnam expects more start-up collaboration with the US on issues of global concern, such as climate change, digital technology, and supply chain diversification.
The nation has identified science and technology, innovation, and entrepreneurship as an important driving force behind national development moving into the new period, he went on to say.
The PM expressed his wish that US partners will continue intensifying co-operation activities, especially in terms of innovative start-ups.
He suggested greater startup collaborations between the two sides, with a specific focus on issues that are of global concern, with the two countries promoting co-operation, such as climate change response, digital transformation, technology transformation, and supply chain diversification.
He stated that the two sides should take heed of innovation and start-ups movement among students and youths.
Agreeing with the PM's global and all-inclusive approach, representatives of various large corporations said they hope to gain an insight into the Vietnamese Government's policies of encouraging US companies to invest in the nation.
The Vietnamese Government is in the process of revamping the mechanism and policies to welcome start-ups, he said, adding that the country is striving to step up efforts to prepare the infrastructure system, such as IT and big data, as well as training human resources to stand ready to welcome foreign investors.
The country is in its development stage, meaning it needs capital to solve new problems, such as energy transition and climate change, the PM said, adding that it is very eager to work in co-operation with major financial institutions.
Human resources represent the most valuable factor in digital transformation, the PM stressed, proposing co-operation in improving the capacity and quality of this in a bid to serve the startup ecosystem, digital transformation, and innovation.
Furthermore, infrastructure relating to science and technology development needs will continue to be invested and be improved in quality as part of wider efforts to meet development requirements.
Vietnam wishes to mobilise financial resources through public-private partnership, PM Chinh said, adding that developing countries like Vietnam must prioritise resources from developed countries.