PM receives Secretary of Treasury, WB Director General, US business leaders
Thursday, 10:04, 12/05/2022
VOV.VN - Prime Minister Pham Minh Chinh on May 11 held a series of meetings with the US Secretary of the Treasury Janet Yellen, Director General of the World Bank (WB) Axel Van Trotsenburg, and leaders of some US corporations as part of his working visit to the US.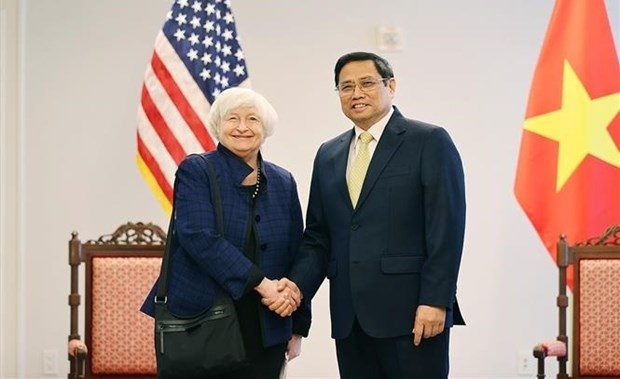 During a meeting with the US Secretary of the Treasury Janet Yellen, the Vietnamese Government chief hailed fruitful cooperation between the two nations in economy, trade, finance and currency, while expressing Vietnam's desire to build an independent and self-reliant economy with sustainable development and deep integration.
He thanked the US for cooperation and support in managing and stabilizing the foreign exchange market, contributing to Vietnam's macro stability.
Chinh touched upon the complex impacts on economies stemming from global instabilities such as strategic competition, pandemic, climate change, conflict and economic development, and armed conflicts.

The Vietnamese cabinet leader also underlined the need to uphold internationalism and multilateralism with a balanced and just approach, adding that each country needs to build an independent and self-reliant economy derived from its own internal resources and strengths.
PM Chinh suggested the US Government and US Department of the Treasury provide greater support and beef up closer cooperation with Vietnam in boosting economic development, dealing with global challenges, including energy transition, and fulfilling commitments at COP26.
He asked the US to cooperate with Vietnam to build regional economic mechanisms, and stabilise trade relations and supply chains.
In response, US Secretary of the Treasury Yelle affirmed her nation's willingness to deepen economic - trade – investment ties between the two countries, including banking and finance cooperation.
She was appreciative of Vietnam's flexible exchange rate management and its consistency in pursuing the goal of controlling inflation and ensuring macro-economic stability.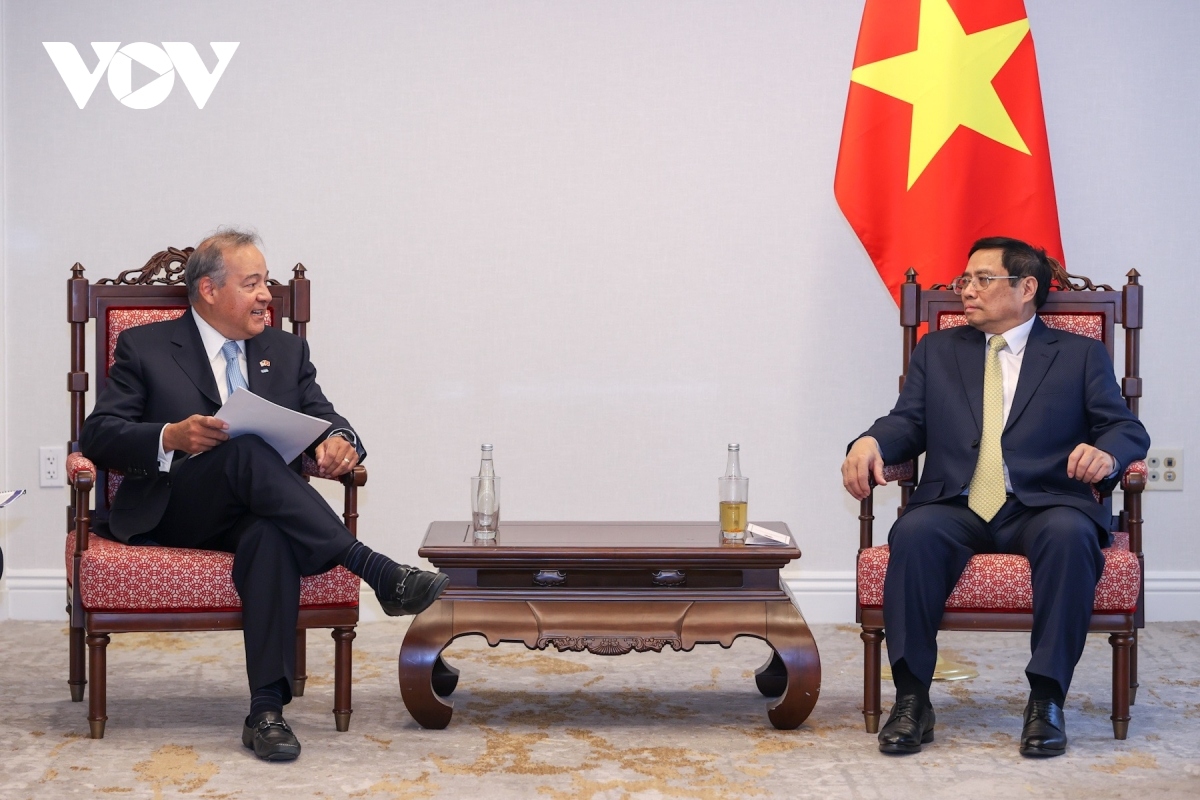 Thorough global and regional financial institutions, the US will coordinate with developed countries to support developing countries, including Vietnam, in the areas of infrastructure, infectious disease prevention and control, energy transition, and climate change response, Secretary Yelle said, adding that the US stay ready to share experience and support Vietnam in capacity building and mechanisms to effectively develop capital and property markets.
Received Director General of the World Bank (WB) Axel Van Trotsenburg and leaders of some US corporations, PM Chinh said both sides need to concentrate their cooperation on energy transition and digital transformation, major transport infrastructure projects such as expressways and coastal roads, projects coping with climate changes in the Mekong Delta and central regions, poverty reduction, and healthcare capacity improvement.

He said Vietnam will soon work with the WB in the country to carry out specific projects and Vietnam, will support the WB in realizing pilot policies to ensure the most efficiency of loans. The PM also suggested the two sides continue to simplify procedures and combat corruption in the implementation process of projects.
The same day, PM Chinh had a meeting with Chief Strategy Officer and Senior Vice President of Strategy and Corporate Development at the Boeing Company during which, PM Chinh said that Vietnam's aviation industry will see strong development in the coming time and Boeing can become involved in developing Vietnam's aviation ecosystem.
He applauded Boeing's cooperation and support in the process of exploiting Boeing's aircraft in Vietnam and welcomed a plan to expand facilities in the Southeast Asian nation to supply raw materials and learn more about opportunities for technology cooperation.
The cabinet leader proposed the company open warranty and maintenance facilities, devise a long-term cooperation policy and offer specific incentives in order to help Vietnamese businesses overcome difficulties for the time being, thereby make an important contribution to propelling cooperation between Vietnam and the US forward.
Boeing is the largest airline company in the world and is currently a leading manufacturer of commercial jets, defence systems, and aerospace.
As a biggest manufacturer and exporter of the US, Boeing supports and serves customers across 150 countries, with a global workforce of 142,000, and raking in 62.3 billion in revenue, and US$4.3 billion in profit.
Boeing has been a reliable partner providing aircraft and related aviation services for Vietnam Airlines and VietJet Air for many years. In the coming time, it is projected to expand activities in the following areas such as training, building a technical center, enhancing connections with domestic partners, and participating in corporate social responsibility (CSR) programs
Boeing is currently interested in supporting Vietnam in the process of digital transformation and sustainable development, and  wishes to expand facilities in the Southeast Asia nation to supply raw materials and explore opportunities for technology cooperation, connectivity with airlines.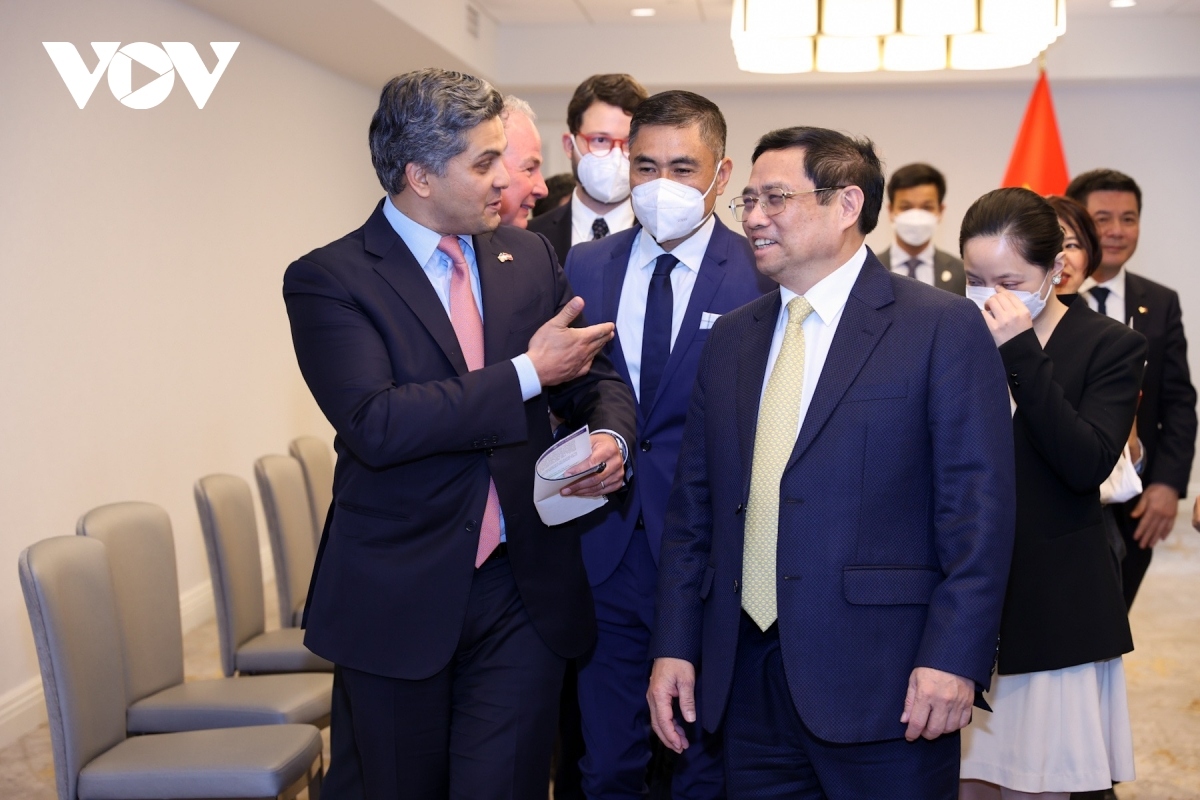 Later the same day, he also received leaders of the Asia Group, Blackstone, GenX and AES, who showed their interest in energy transition projects in Vietnam and in investing to support Vietnam realise its COP26 goals in coping with climate change.

Chinh appreciated their energy transition proposals and updated them on a number of issues relating to Vietnam's energy development orientations and electricity planning. He suggested them focus research and investment on wind power, solar power and tidal energy in Vietnam.