Media agencies praised for contributions to national development
Friday, 11:20, 24/12/2021
VOV.VN - Press agencies have played a significant role in popularising several of the nation's major issues, thereby serving as a reliable forum for local people.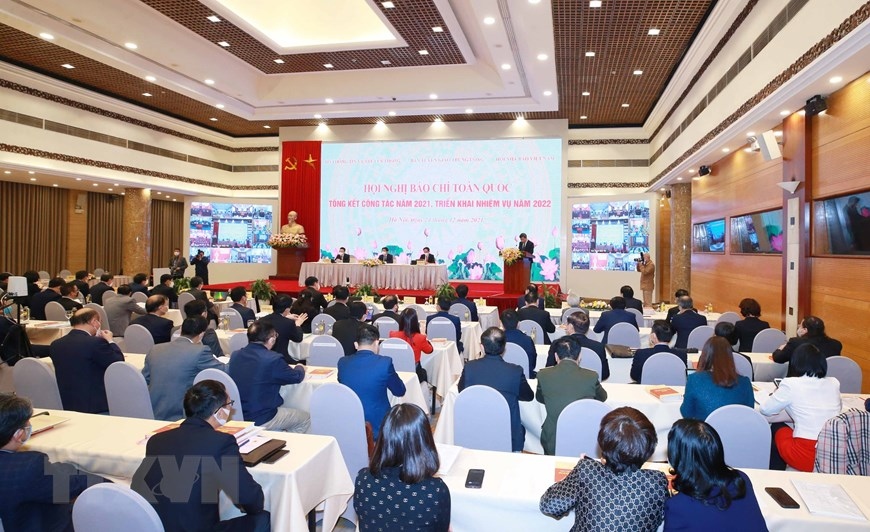 Tran Thanh Lam, deputy head of the Party Central Committee's Commission for Information and Education, said this on December 24 as the National Press Conference opened in Hanoi.
The event has been designed to review the performance of the press circle this year, along with devising tasks for next year.
According to a report presented by Lam, as of November 30 the country had 816 media agencies made up of 40,000 employees, 17,161 of whom have been granted press cards.

The past year has seen press agencies cover a broad array of major events such as the 13th National Party Congress, the elections of deputies to the 15th National Assembly and all-level People's Councils for the 2021 to 2026 period, and high-level diplomatic activities, among other things. 
Most notably, through diverse forms and contents, they  have made remarkable contributions to orienting public opinion and building a wider social consensus, while simultaneously protecting the Party's ideology and opposing wrong viewpoints, the report said. It added that the dissemination of information regarding the COVID-19 pandemic fight and economic recovery has been carried out in both a proper and effective manner.

Many agencies have also embarked on digital transformation, utilized artificial intelligence (AI), reformed operations, and devised new press business models to diversify their sources of income.

However, the report pointed out limitations and shortcomings in the sector, including those regarding co-ordination between management agencies and information quality, along with law violations by individuals and collectives.

The report also underlined the necessity of speeding up  the implementation of the national planning scheme on press development and management by 2025.
Moreover, additional measures and solutions should be rolled out to deal with obstacles relating to the enforcement of relevant laws to improve operational efficiency and to fulfil their assigned tasks, it emphasized.