VFF leader pays 2021 Christmas visit to Bui Chu diocese
Saturday, 17:47, 12/12/2020
VOV.VN - Vietnam Fatherland Front Central Committee President Tran Thanh Man on Dec. 12 paid an Xmas visit to Bui Chu diocese in Nam Dinh province to extend Xmas 2021 greetings to local Catholics.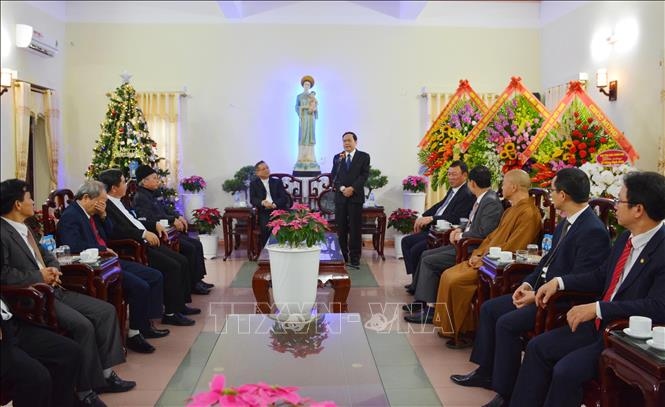 On behalf of the Party and State leaders, Man extended a Merry Christmas and Happy New Year in 2021 to Bishop Vu Dinh Hieu and all dignitaries, monks and fellow Catholics.
He informed the Bishop on Vietnam's major socio-economic development achievements in 2020, saying despite the global economic fallout due to the COVID-19 pandemic, Vietnam has brought the disease under control and maintained economic growth.
Vietnam is one of few countries that have obtained positive economic growth in the context of the COVID-19 pandemic spreading globally, he noted.
He attributed the achievements to the Party's clear-sighted leadership and great unity of people of all social strata, including contributions by the Catholic community.
The VFF President expressed his wish that Bishop Vu Dinh Hieu and other dignitaries and priests will continue to mobilize parishioners in the diocese to well implement Party guidelines and State policies, and actively participate in exemplary role models to build a better life for all.
Bishop Vu Dinh Hieu thanked Party, State and Government leaders, socio-political organisations and local administration for creating favourable conditions for Catholics in Bui Chu Diocese and other parishes nationwide to practice their region, contributing to local socio-economic development.
Nam Dinh is home to nearly 600 churches, over 140 parishes, and more than 500 congregations with over 470,000 Catholics, accounting for one fifth of the province's population.