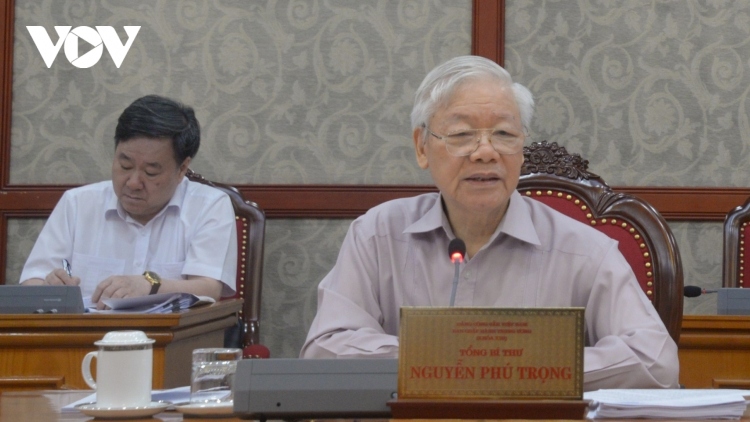 Addressing a Political Bureau meeting held to discuss COVID-19 prevention and control, General Secretary Trong lauded the all-out efforts made by the entire political system, army, and people to keep the latest outbreak in check.
He especially singled out frontline forces, including healthcare workers, soldiers, and policemen, for launching proactive initiatives in terms of epidemic prevention and control measures, thereby helping to slow the spread of the virus within the community, maintain production, and ensure social security.
However, he warned about the complex nature of the virus, as well as the severe consequences the pandemic may have on communities, and requested that relevant agencies and localities, especially those in high-risk areas, work harder and put stronger and more effective measures in place to swiftly repel the disease.
Importantly, there remains no room for complacency and all scenarios must be considered in order to respond to pandemic developments in all circumstances, General Secretary Trong told the meeting.
The Party leader also emphasised the need to speed up the purchase of COVID-19 vaccines, along with research and development procedures of local vaccines for domestic use.
Vietnam is currently battling the fourth wave of the COVID-19 pandemic, with the virus spreading to 39 cities and provinces nationwide and more than 6,000 people infected.
The Ministry of Health recently stated that Vietnam is likely to get 120 million doses of COVID-19 vaccines this year from AstraZeneca, the COVAX Facility, Sputnik V, Moderna, and Pfizer/BioNTech.
It is aiming to secure at least 150 million doses which can vaccinate 70% of the local population by the end of the year or at some point early next year.