Vietnam, Rok to establish comprehensive strategic partnership in 2022
Monday, 20:29, 13/12/2021
VOV.VN - The legislative bodies of Vietnam and the Republic of Korea (RoK) have supported the two countries' efforts to lift their relationship to a level of comprehensive strategic partnership in 2022 to mark 30 years of their diplomacy.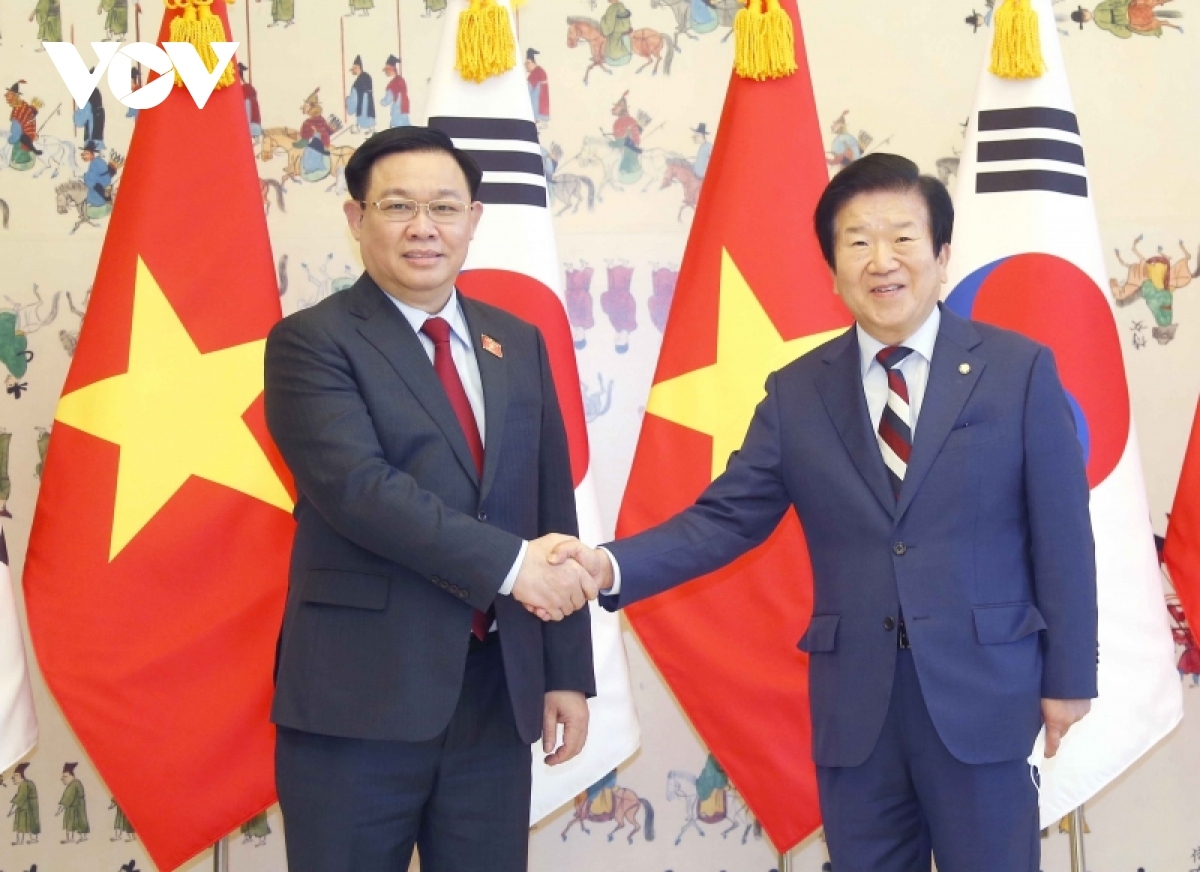 The agreement was reached during talks in Seoul on December 13 between Park Byeong-seug, Speaker of the RoK National Assembly, and his Vietnamese counterpart Vuong Dinh Hue who is in Seoul for an official visit.
The two leaders shared the view that the Vietnam – RoK relations have developed positively over the years despite the impact of the COVID-19 pandemic, especially in the fields of politics, economy, and people-to-people exchanges.
Park said the RoK considers Vietnam as a key partner in its New Southern Policy and wishes to promote all-round cooperation with Vietnam.
Meanwhile, Hue suggested that the RoK share its economic development experience, including green growth and innovation, with Vietnam.
They held that the two countries will strive to raise trade exchanges to US$100 billion in 2023 and US$150 billion by 2030 toward balancing bilateral trade.
The RoK will create favourable conditions for Vietnamese farm products to enter its market and for Vietnamese businesses to engage in the global supply chain of RoK businesses.
They will encourage RoK businesses to continue to invest and expand their investment in Vietnam, especially in the fields of supporting industries, high technology, smart city development, agriculture and technology transfer to Vietnam.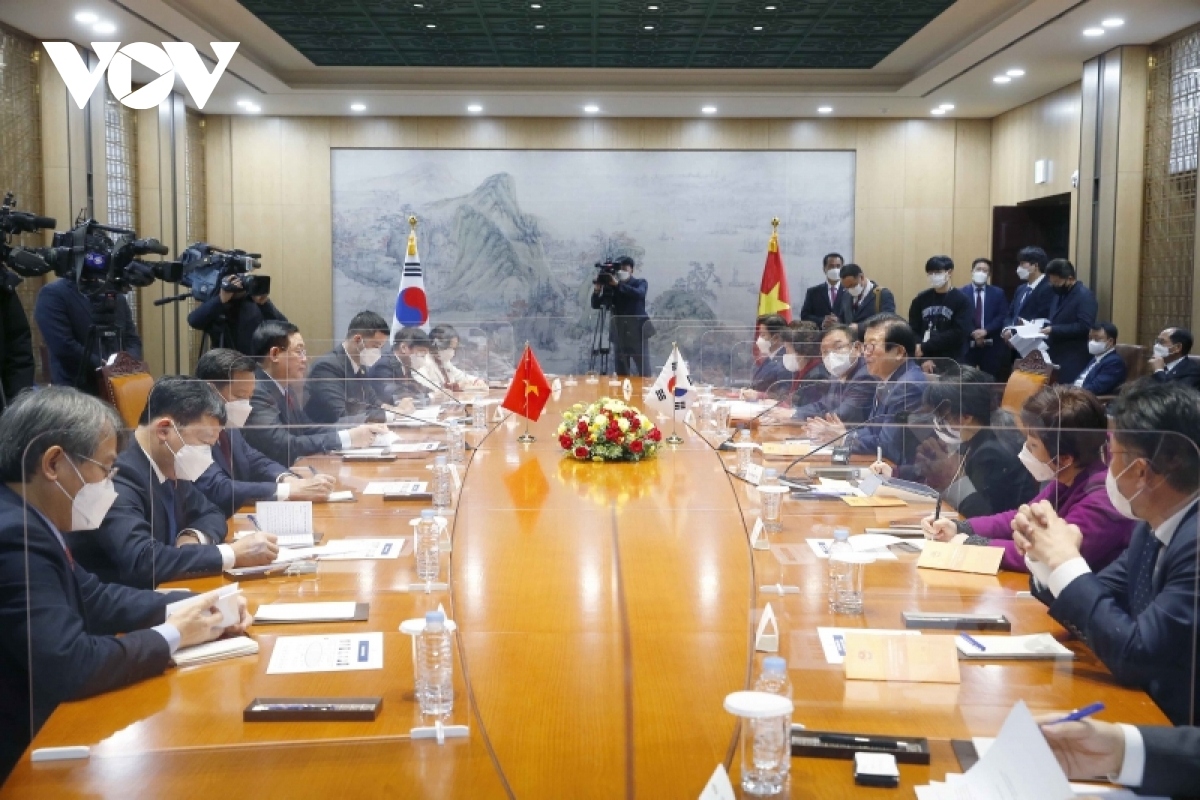 Both host and guest highly appreciated the two countries' regular maintenance of dialogue mechanisms in the field of security and national defense, along with jointly strengthening cooperation in UN peacekeeping, crime and terrorism prevention, and supporting Vietnam in wartime landmine and UXO clearance.
They agreed to increase Vietnam – RoK cooperation in labour export, and COVID-19 control, including vaccine production and technology transfer, as well as in enhancing the capacity building of Vietnam's public health.
Park said the RoK will support Vietnam in implementing its national digital transformation program to 2025, with a vision to 2030, carrying out a number of key transport infrastructure projects in 2021-2025, and gradually restoring direct flights between the two countries after the epidemic is under control.
The two leaders consented that both Vietnam and the RoK will continue working closely at multilateral forums, and share the common vision of ensuring security, safety and freedom of navigation and overflight in the East Sea.
They support efforts to maintain a peaceful, stable environment and legal order and settle sea-related disputes by peaceful means in accordance with international law and the 1982 United Nations Convention on the Law of the Sea (UNCLOS).
The RoK side voiced its support for Vietnam in well performing its role as coordinator of ASEAN - Korea relations for 2021-2024.
Both sides agreed to strengthen cooperation between the two legislative bodies and coordination at multilateral parliamentary forums such as IPU, APPF, ASEP, MSEAP, and AIPA.
On this occasion, Hue respectfully conveyed the invitation of the Vietnamese high-ranking leaders to visit Vietnam to the President and Prime Minister of the Republic of Korea.
Following their talks, National Assembly Chairman Park Byeong-seug held a banquet in honour of NA Chairman Vuong Dinh Hue and his entourage.