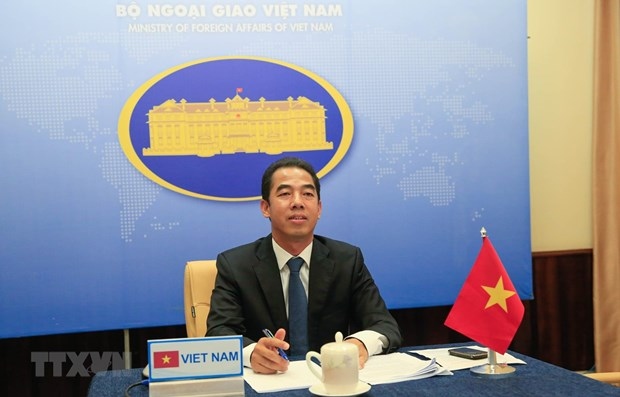 Both sides reviewed the development of the Vietnam-Kazakhstan relations in recent times, exchanged views and agreed on measures to further promote multifaceted cooperation between the two countries as well as to strengthen coordination at regional and international forums.
Deputy Minister To Anh Dung affirmed Vietnam always attaches great importance to the traditional relationship with Kazakhstan, wishing to strengthen bilateral cooperation in all fields.
Deputy Minister Shakhrat Nuryshev emphasized Vietnam is a priority in Kazakhstan's foreign policy in the region, serving as a bridge to promote cooperation between Kazakhstan and ASEAN.
Noting bilateral trade has yet to live up to the two countries' expectations, both sides underlined the need to take advantage of the Free Trade Agreement between Vietnam and the Eurasian Economic Union to support their development. They agreed to bring into full play the role of the Vietnam-Kazakhstan Intergovernmental Committee on economic-trade and scientific-technical cooperation in promoting bilateral cooperation.
Acknowledging the potential for investment cooperation between Vietnam and Kazakhstan, both sides affirmed to continue to create favourable conditions for their businesses to explore the market, establish partnerships and increase cooperation.
The two Deputy Foreign Ministers also exchanged views on the prospects of cooperation between Vietnam and Kazakhstan in culture, sports, tourism, education-training, as well as experiences in responding to the COVID-19 pandemic.
The two sides agreed to continue to strengthen coordination at multilateral and regional forums such as the United Nations, the Asia-Europe Cooperation Forum (ASEM), the Conference on Interaction and Confidence Building Measures in Asia (CICA) to contribute to peace and stability in the region, while settling disputes through peaceful means on the basis of respect for international law and the UN Charter, as well as the 1982 United Nations Convention on the Law of the Sea (UNCLOS).