Vietnam attends EAS Foreign Ministers meeting in Cambodia
Friday, 16:00, 05/08/2022
VOV.VN - Vietnamese Foreign Minister Bui Thanh Son on August 5 joined other diplomats of the East Asia Summit (EAS) at the EAS Foreign Ministers' Meeting as part of the 55th ASEAN Foreign Ministers' Meeting taking place in Phnom Penh (Cambodia).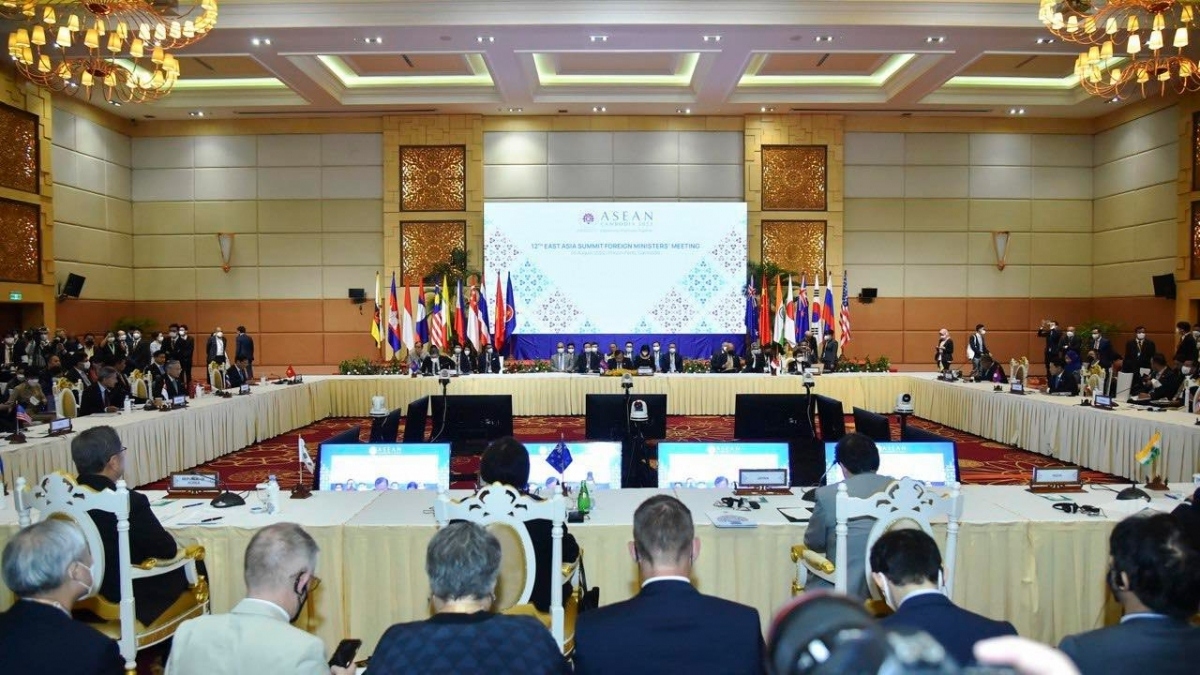 At the meeting, ASEAN Foreign Ministers and their EAS counterparts from China, Japan, the Republic of Korea, Australia, New Zealand, India, Russia and the US, examined the recent developments in the region and the wilder world, and discussed their cooperation orientations.
The FMs raised concerns about emerging complicated developments in the South China Sea (known as the East Sea in Vietnam), Myanmar, the Korean Peninsula, Ukraine, and the Taiwan Strait. They affirmed that the strategic value of the EAS is to create a favourable environment for frank dialogue, close consultation, and sincere cooperation for a region of peace, stability and sustainable development.
Addressing the meeting, Minister Bui Thanh Son of Vietnam emphasized the importance of dialogue holding, trust building and responsibility sharing, and reaffirmed ASEAN's consistent stance on issues in the current international situation.
He called on countries to contribute to building the East Sea into a sea of peace and stability, safety and security, openness and freedom, by resolving all disputes by peaceful means based on international law, including the 1982 UN Convention on the Law of the Sea (UNCLOS).
Vietnam is committed to working with other ASEAN countries and China to strictly implement the Declaration on the Conduct of Parties in the East Sea (DOC), and strive to soon achieve an effective and efficient Code of Conduct (COC) in accordance with international law, including the 1982 UNCLOS, he stressed.
Regarding recent tensions across the Taiwan Strait, Minister Son reiterated ASEAN's and Vietnam's strong support for the 'One China' policy and called on all parties to exercise restraint, avoid complications, and resolve disagreements by peaceful means, in compliance with international law, the UN Charter and the Treaty of Amity and Cooperation (TAC).
He also said ASEAN will maintain its engagement in Myanmar to implement the bloc's Five-Point Consensus on this country.