State President pushes for stronger defence ties between Vietnam, Indonesia
Friday, 17:28, 13/05/2022
VOV.VN - State President Nguyen Xuan Phuc on May 13 received Indonesian Defence Minister Prabowo Subianto who is in Hanoi for a visit to Vietnam at the invitation of his Vietnamese counterpart General Phan Van Giang.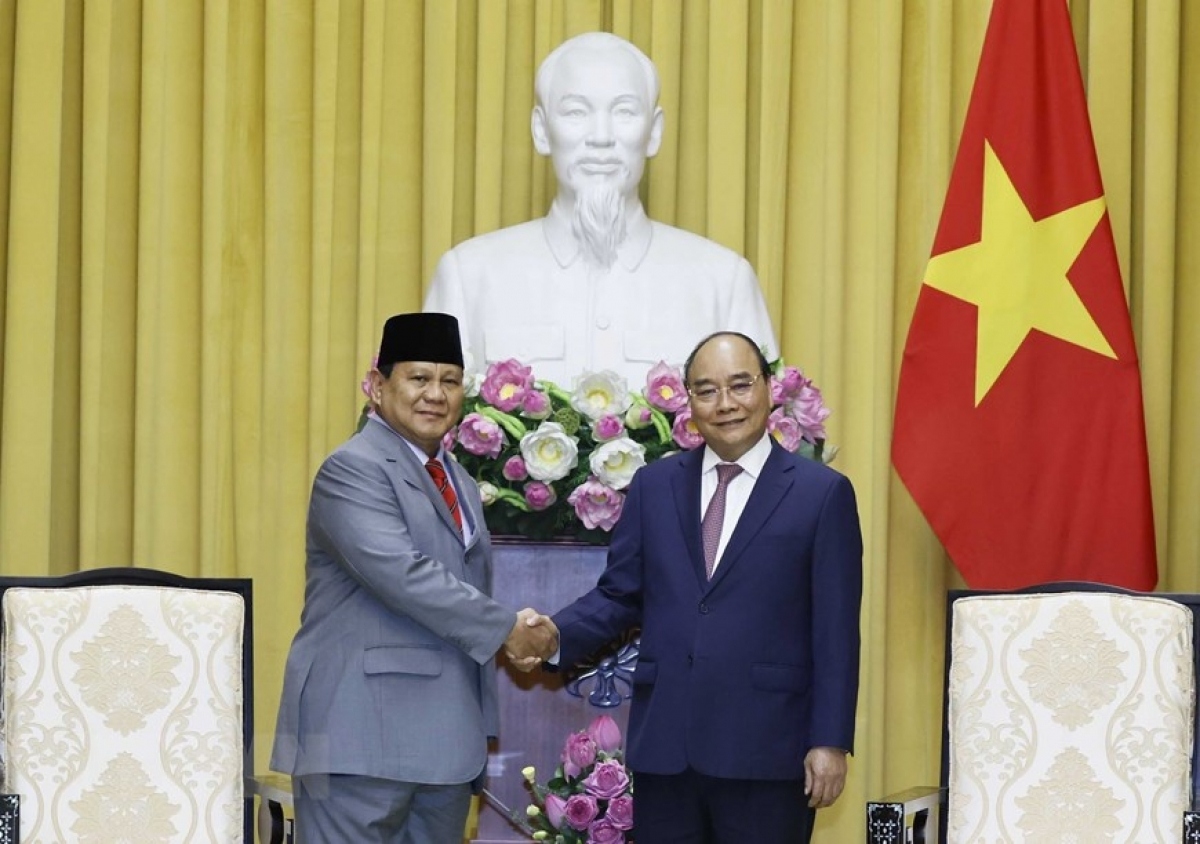 Phuc welcomed Subianto's visit which he said will contribute to promoting defense cooperation as well as the strategic partnership between the two countries.
He highly appreciated the results of earlier talks between the two Defense Ministers, and said the bilateral defense relations continued to thrive despite the impact of the COVID-19 pandemic.
He suggested that the two defense ministries strengthen consultation and support each other at multilateral forums, while sticking to ASEAN's common stance on regional issues, including the East Sea issue.
Vietnam attaches great importance to and wants to promote healthy, stable, sustainable and long-term, comprehensive development of the relationship with Indonesia in the fields of economy, security, national defense, culture, education, tourism and people-to-people exchanges, said Phuc.
He acknowledged Indonesia's contributions to promoting ASEAN's centrality and solidarity, and the country's active role in ramping up the implementation of the Five-Point Consensus on Myanmar adopted by the ASEAN leaders in April 2021.
Vietnam supports Indonesia's ASEAN Chair in 2023, and hopes that Indonesia will actively contribute to building an ASEAN community for the sake of solidarity, development, peace, stability, security, safety, and freedom of navigation in the region, he said.
President Phuc stressed that the two countries need to cooperate more closely to solve problems that may arise at sea as agreed upon by the two countries' Presidents.
Minister Subianto conveyed President Joko Widodo's greetings to President Nguyen Xuan Phuc, and congratulated Vietnam on successfully organizing the opening ceremony of the 31st SEA Games on May 12 evening.
Subianto affirmed that Indonesia always attaches importance to its relationship with Vietnam. He expressed his admiration for Vietnamese people's efforts to win the past two wars of resistance for national independence.
He echoed the President's proposal that the Navy and Coast Guard forces of Indonesia and Vietnam should strengthen cooperation to jointly solve problems at sea. He expressed Indonesia's desire to learn from Vietnam's experience in defense, fisheries and agriculture development.
The Indonesian Ministry of Defense is willing to cooperate with the Vietnamese Ministry of National Defense in personnel training in the fields of technology and military medicine, he said.