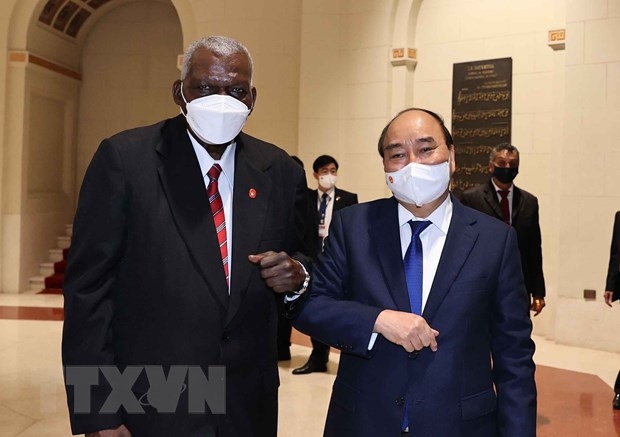 Phuc said both National Assemblies should strengthen the exchange of visits to share experiences in performing their legislatures' role in the political system, and in promoting parliamentary diplomacy and cooperation at multilateral parliamentary forums.
The National Assembly, ministries and agencies of Vietnam are ready to work alongside the Cuban National Assembly to exchange experiences on issues of mutual concern, he assured his host.
He voiced Vietnam's strong opposition to the western-imposed embargo against Cuba and called for an immediate end to such a move, while affirming Vietnam's support for Cuba's development course.
President Esteban Lazo Hernández warmly welcomed President Phuc in Havana on an official visit which he said will help further tighten the special traditional friendship and cooperation between the two countries.
He also spoke highly of the great achievements that the Party, State and people of Vietnam have recorded in national construction and defense as well as international integration. .
The two leaders consented that the relations between the two countries have developed positively over the past years through maintaining regular high-level exchanges and bilateral cooperation mechanisms, as well as mutual support in the fight against COVID-19.
The top leaders of the two legislative bodies also had a meeting on the sidelines of the recent fifth World Conference of Speakers of Parliaments taking place in Austria on September 7.
Both host and guest exchanged views on measures to increase bilateral cooperation in various areas.
President Nguyen Xuan Phuc is on an official working visit to Cuba at the invitation of President Miguel Diaz-Canel.