President Phuc pushes for APEC economies to invest in green growth
Thursday, 16:17, 11/11/2021
VOV.VN - State President Nguyen Xuan Phuc has called on APEC economies to strive to invest more in clean energy projects and develop new technologies in response to a variety of challenges posed by economic transitioning and climate change.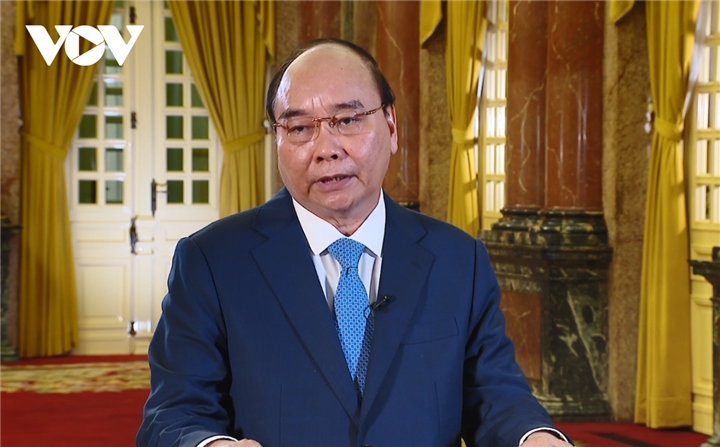 In a pre-recoded video to the APEC CEO Summit 2021 that opened on November 11, President Phuc also called on international businesses and partners to invest more into Vietnam's green growth projects, stating that, "Your success is ours."
He welcomed the summit's discussions relating to sustainable development and climate change adaptation, noting that the green planet is being shaken by the unprecedented impact of climate change, extreme natural disasters, environmental degradation, and the COVID-19 pandemic.
Those challenges are getting more serious each day and duly require the world to act together in order to address them, he stressed.
According to the State President, responding to climate change is a common responsibility of all economies that requires both creative and effective international co-operation, including offering resources, implementing new technologies, and improving capacity building for developing countries.
"In its decision making process, the State should take into account long-term benefits and introduce a comprehensive approach, from infrastructure and finance, to environmental protection and labour," said President Phuc. "In its leading role, the State does not replace actors in society but encourages the establishment of appropriate institutions to mobilize resources from enterprises and people in order to promote public-private projects for green growth."
To meet the goals of green growth and sustainable development, President  Phuc emphasised the role of businesses in developing an economy based on law-carbon emissions and green growth in a bid to improve their competitiveness and sustainable development.
He went on to suggest that each enterprise set out a roadmap for cutting greenhouse gas emissions and greening economic sectors, by developing clean energy projects and new technologies.
It is imperative to create a smart green agricultural system, form green supply chains, and encourage environmentally-friendly behavior among consumers, said President Phuc.
He suggested that the APEC Business Advisory Council should develop a set of guidelines aimed at promoting sustainable business practices, with a primary focus placed on small and medium-sized enterprises.
Noting that Vietnam is among countries most affected by climate change and rising sea levels, President Phuc emphasised that it is committed to taking drastic action to transform its economic model to green growth and comprehensively respond to the negative impact of climate change.
During the recent 26th UN Climate Change Conference (COP 26), Vietnam strongly committed to achieving an emission balance by 2050, net zero emissions, and increasing the proportion of renewable energy to over 30% of the total primary energy supply, whilst also sustaining the national forest coverage at 43%.
The country therefore aspires to achieve human-based green growth through modern institutionalisation and governance, advanced science and technology, along with high-quality human resources. It wishes to co-operate alongside other APEC members, business communities, and foreign partners in a bid to successfully implement this process, he noted.
Along with further improving the local business climate, President Phuc said the country has also formulated a preferential mechanism for businesses to seize upon opportunities to engage in the supply of green products and services. This is in addition to perfecting institutions and policies relating to developing green businesses and renovating eco-industrial parks.
He called on international investors to come to Vietnam - a market of approximately 100 million consumers and a member of 14 bilateral and multilateral free trade agreements - to co-operate, share benefits, and develop sustainably.