Denmark supports green strategic partnership with Vietnam
Thursday, 06:34, 16/06/2022
VOV.VN - Denmark is willing to support green transition in Vietnam and wishes to establish a green strategic partnership with the Southeast Asian nation.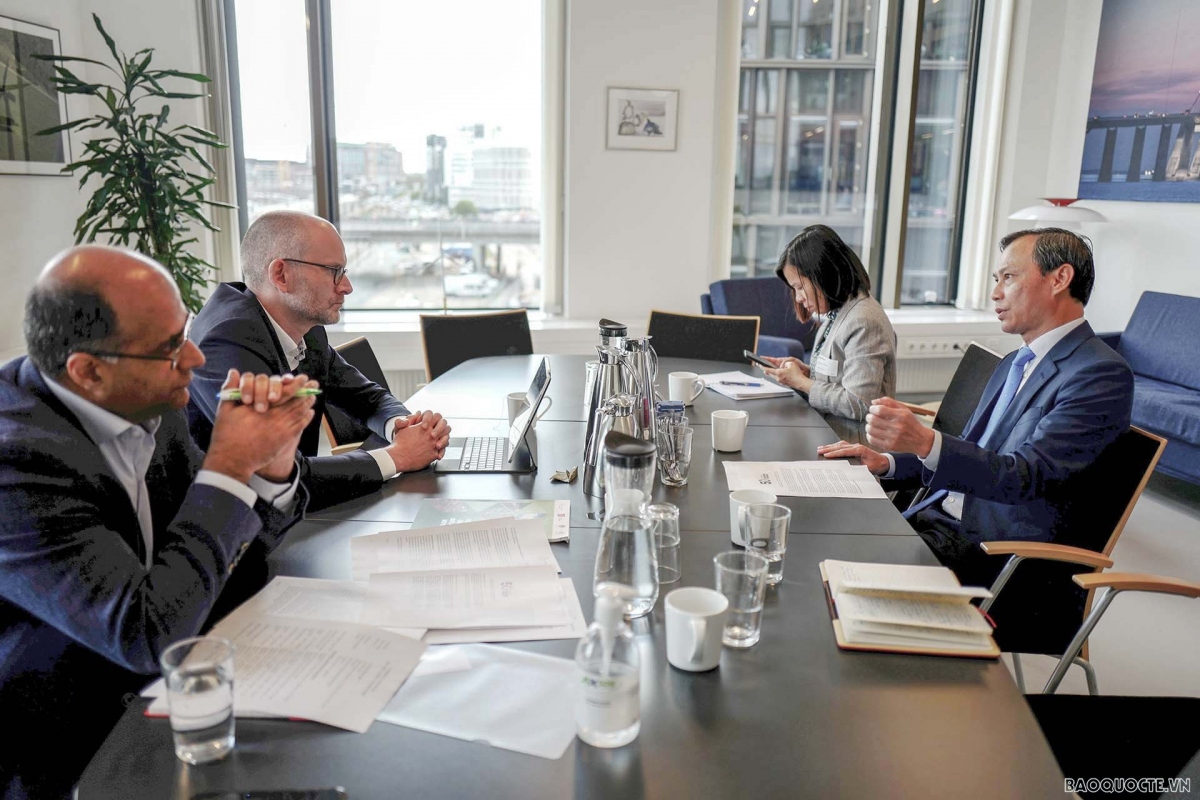 Kristoffer Böttzauw, director general of the Danish Energy Agency, was speaking while hosting Vietnamese Ambassador to Denmark Luong Thanh Nghi on June 13.
Böttzauw affirmed that Vietnam is one of Denmark's most important and potential partners in the field of energy development.
He shared Denmark's experience in green transition and said the European state is ready to share its knowledge and experience as well as to promote cooperation projects with Vietnam to help the Southeast Asian nation realize its climate change commitments at COP26.
In Asia, he said that Denmark has signed a Green Strategic Partnership with India and a Green Cooperation Agreement with Indonesia, and that Danish leaders place high priority on promoting a green strategic partnership with Vietnam.
Such a successful model would motivate other countries in the region to put forward more environmentally friendly and sustainable development agendas and strategies, he said.
Ambassador Luong Thanh Nghi briefed his host on Vietnam's development strategy from now to 2030, with a vision to 2045, emphasizing green transformation as one of the long-term and high-priority options in the country's socio-economic development strategy.
He recalled Prime Minister Pham Minh Chinh's commitments to reducing greenhouse gas emissions to zero by 2050 at COP26 which he said demonstrate Vietnam's long-term vision that the country does not trade off development at all costs but has a suitable, balanced and sustainable development roadmap for future generations.
According to the diplomat, along with its own capability Vietnam needs support and assistance from its network of partners and friends, especially those with experience in developing green and renewable energy sources like Denmark, to fulfil its commitments.
He affirmed that green transition, including developing alternative and environmentally friendly energy sources is the most suitable development path for a country with a large market, fairly high economic growth, high energy demand, a long coastline and great wind power potential like Vietnam.
Ambassador Luong Thanh Nghi highly appreciated Denmark's support and cooperation with Vietnam in recent times, especially in key areas such as climate change response, sustainable development, renewable energy development, and green transition. He hoped that Denmark would continue to provide practical support for Vietnam in the coming time.
He welcomed the Danish side's proposal to promote the establishment of the Vietnam-Denmark green strategic partnership, and said Vietnam would study and give response soon.