Cuban PM Manuel Marrero Cruz honoured with Ho Chi Minh Order
Thursday, 15:16, 29/09/2022
VOV.VN - Cuban PM Manuel Marrero Cruz has been presented with Vietnam's Ho Chi Minh Order in recognition of his great contributions to strengthening the special relationship between Vietnam and Cuba.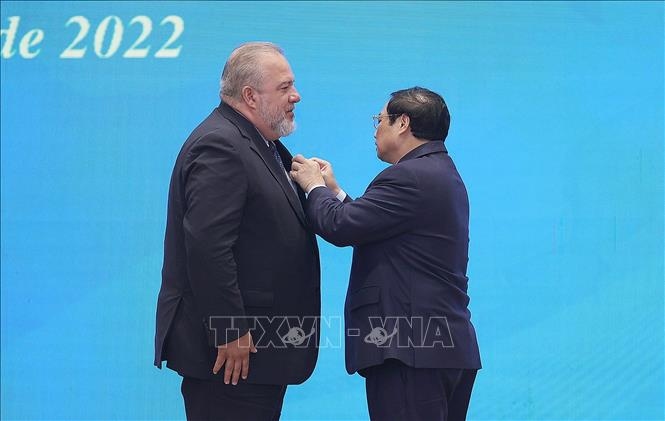 Prime Minister Pham Minh Chinh of Vietnam, on behalf of the Vietnamese Party, State, government and people, pinned the order to the Cuban PM's chest, at a ceremony held in Hanoi on September 29.
Addressing the ceremony, Cuban Prime Minister Manuel Marrero Cruz spoke highly of the close bond between Cuba and Vietnam that was cultivated by late President Fidel Castro of Cuba and late President Ho Chi Minh of Vietnam and has stood the test of time for more than six decades.
Cuba is very proud of Vietnam's success in the fight to liberate old colonialism, he said, adding that though both countries are small, they do not submit to any great power or force.
According to the Cuban PM, the people of Vietnam and Cuba, under the wise leadership of the Communist Party of Vietnam and the Communist Party of Cuba, are going on to build socialism for the welfare of all people of the two countries. The two sides have shared many valuable experiences, and they are willing to cooperate in all fields on high political trust.
The relations between Vietnam and Cuba will live long forever. Cuba-Vietnam! Solidarity will definitely win, stressed the Cuban PM.
Cuban PM Manuel Marrero Cruz arrived in Hanoi on September 28 evening for a five-day official visit to Vietnam at the invitation of Vietnamese Prime Minister Pham Minh Chinh.
PM Chinh hosted a ceremony on September 29 morning to welcome the Cuban PM. The two government leaders later held talks and witnessed the signing of a number of cooperation documents between the two countries.