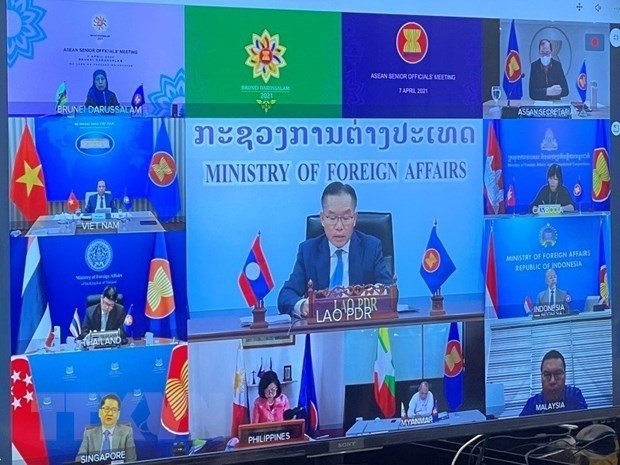 They expressed concerns over recent complicated developments in the regional sea, including the threats, coercion and violations of international law and the 1982 United Nations Convention on the Law of the Sea (UNCLOS).
They said such actions affect regional peace and security, run counter to commitments in the Declaration on the Conduct of Parties in the South China Sea (DOC), and create an unfavorable atmosphere for negotiations on a Code of Conduct in the South China Sea (COC).
They emphasised the need to restrain, avoid complicating the situation, promote international law and UNCLOS 1982, continue fully and effectively implementing the DOC, and gradually resume negotiations for an effective and valid COC in conformity with international law and UNCLOS 1982.
During the meeting, the officials reaffirmed their support for the initiatives proposed by Brunei, ASEAN Chair in 2021, including promoting multilateralism, improving the effectiveness of the bloc's humanitarian assistance and emergency response, and marine-based economic cooperation.
With regard to the COVID-19 fight, they agreed to continue prioritising efforts to control the pandemic, prevent new waves of infection, overcome the consequences of the pandemic and speed up economic recovery.
Vietnamese Deputy Foreign Minister Nguyen Quoc Dung voiced Vietnam's support for ASEAN's cooperation priorities and initiatives, and said Vietnam is willing to hold an ASEAN forum on narrowing development gaps between sub-regions for comprehensive recovery and sustainable development.