Conference highlights Vietnam's role, upcoming Party Congress
Sunday, 19:27, 20/12/2020
An online conference was held on December 19 by the Ho Chi Minh Institute under the Saint Petersburg University of Russia, spotlighting the changing role of Vietnam in the contemporary world, heading to the 13th National Congress of the Communist Party of Vietnam (CPV).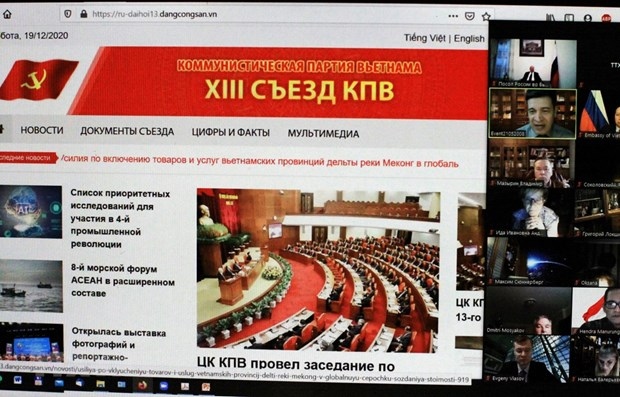 The eight-hour event drew a large number of scholars of Russia, Kazakhstan, Indonesia, the Democratic People's Republic of Korea, and Vietnam.

Russian Ambassador to Vietnam Konstantin Vnukov highlighted the significant role of the CPV in leading the national construction and development with great achievements such as high economic growth in many years and the rising role in the world arena.

Particularly, Vietnam has become one of the few countries managing to maintain economic expansion amid COVID-19 pandemic's impacts, he said.

Meanwhile, Vietnamese Ambassador to Russia Ngo Duc Manh underlined that the 13th National Party Congress is a significant event of Vietnam. He noted that under the CPV leadership, Vietnam has maintained political stability, economic growth as well as intensive and extensive international integration.

 Participants at the event discussed major features in external relations policies and development strategy of Vietnam as well as socio-economic success of the country over the years.

They noted that despite COVID-19 pandemic, Vietnam has still increased its role in the international arena, while persisting its external policy of peace and active and proactive international integration, willing to befriend with all countries in the world.

Vietnam has also shared a close traditional relationship with Russia, they said.
Dr. Evgeny Vlasov from the Far Eastern Federal University attributed Vietnam's success in controlling COVID-19 pandemic to the CPV and the Government of Vietnam's close direction with the mobilisation of efforts of the whole political system in the work, and the support from all the people.

At the same time, Prof. Dr. Vladimir Kolotov from the Ho Chi Minh Institute said that the upcoming CPV National Congress will take place in the context that the global environment is stable but in difficulties. He held that Vietnamese leaders have sought a wise and optimal way to rise from hard time.

He held that the new CPV Central Committee will bring Vietnam to further development in the next five years, maintaining domestic political stability, economic growth, and power balance.

To this end, Vietnam should ensure the efficiency of personnel work and management efficiency, he added.

Participants at the event held that Vietnam has all capacity to become comprehensively modern, successful and stable, underlining the need for the country to show stronger performance in the settlement of problems of corruption, personnel degradation, and hostile forces' activities.