Chief Justice of Supreme People's Court pays working visit to Germany
Saturday, 17:01, 02/07/2022
VOV.VN - Chief Justice of the Supreme People's Court Nguyen Hoa Binh has been leading a senior delegation to visit Germany from June 29 to July 3 following an invitation made by the German Federal Ministry of Justice.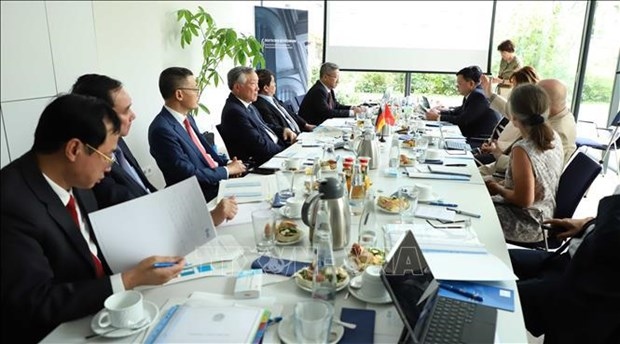 The purpose of the visit is to study a number of issues taking place in the current judicial reform, including the institution of citizen's participation in trial activities, juvenile justice, and court governance.
During their stay in the Central European country, the Vietnamese delegates visited and held working sessions with representatives of the Federal Court of Justice in Karlsruhe, the Federal Ministry of Justice, and the Moabit Criminal Court in Berlin. In addition, they met with the secretary general of the European network of non-professional judges.

During the course of working sessions, the delegation enquired about the model of amateur judges, the organizational structure and operations of the federal and state-level court systems, as well as the independence of judges in trial activities.

Most notably, the Vietnamese delegates received updates on Germany's juvenile justice system, which is constantly being updated and improved to ensure it is in line with international standards. These efforts avoid causing additional stress for children who break the law, whilst also promoting education of teenage delinquents to help prevent re-offending.

At the meeting held with the delegation, Vietnamese Ambassador to Germany Vu Quang Minh was briefed on co-operation between the two countries in the fields of law, political security, trade, investment, and education, as well as the situation regarding the Vietnamese community in the European country.

According to the schedule, the Vietnamese delegation will pay a working visit to France from July 4 to July 9 at the invitation of the Court of Cassation.