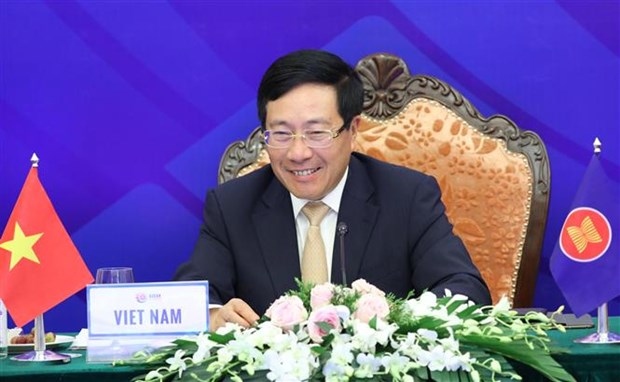 The special session of the ASEAN Coordinating Council Meeting on Sub-Regional Development was chaired by Deputy Prime Minister and Foreign Minister Pham Binh Minh. This is the first time the ASEAN Coordinating Council (ACC) has held a separate session on the issue.
Addressing the event, President of the Asian Development Bank Masatsugu Asakawa spoke highly of Vietnam's initiative on the inclusion of the sub-regional development into the overall development of ASEAN, saying it contributes to the regional efforts for post-COVID-19 recovery.
For his part, President of Economic Research Institute of ASEAN and East Asia (ERIA) Hidetoshi Nishimura said ASEAN has promoted its central role in connecting and developing sub-regions in the region, such as the Mekong region, the Brunei Darussalam-Indonesia-Malaysia-Philippines East ASEAN Growth Area (BIMP-EAGA), and the Indonesia-Malaysia-Thailand Growth Triangle (IMT-GT).
The Mekong region can be a role model for sub-regional development in ASEAN during the cooperation process for sustainable development and prosperity of the region, he said.
Participants shared ideas on the challenges facing the ASEAN sub-regions, such as development gaps, hunger, food security – water source – energy, environmental pollution, and climate change.
They suggested ASEAN nations focus on different aspects of each sub-region such as boosting regional linkage, human resources development, public-private partnership (PPP), reshaping regional supply chain, and taking advantages of science and technology and digital economic development.
Minh underlined the significance and role of sub-regional cooperation in the region. "Through unity, cooperation and the spirit that no one is left behind, ASEAN has been successful. It is now the time for ASEAN to uphold its role, coordinate and support the sub-regional development in the region," he said.
Also on the first working day, participants discussed other ASEAN and international and regional issues of mutual interest, including COVID-19 response and post-pandemic recovery plan.
AMM 53 is one of the highlights of Vietnam's ASEAN Chairmanship this year. The event consists of 20 meetings via video conference, joined by 27 delegations from four continents of different time zones. They include the 21st ASEAN 3 Foreign Ministers' Meeting, the 10th East Asia Summit Foreign Ministers' Meeting, and the 27th ASEAN Regional Forum.