WB remains positive on Vietnamese GDP growth target for next year
Saturday, 16:40, 25/12/2021
VOV.VN - The nation's target of recording GDP growth of between 6% and 6.5% next year is entirely feasible, providing it can effectively control COVID-19 and ensure supply-demand balance, according to Jacques Morisset, lead economist and programme leader for the World Bank (WB) in Vietnam.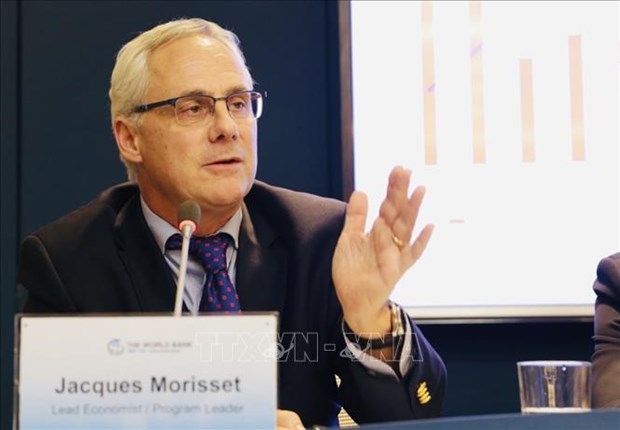 Morisset said that the greatest risk to the Vietnamese economy in 2022 is complicated developments relating to the pandemic, particularly the emergence of new variants.

He also mentioned a range of internal economic risks, noting that the country is an open economy which will depend on the situation in other nations globally.
Another factor is possible inflation, he said, noting that the local economy is currently facing import inflation, while domestic commodity prices have yet to increase due to demand remaining lower than supply.
With regard to Vietnamese economic prospects moving forward, Morisset pointed out three fresh motivations to boost growth.

Most notably, the emergence of the COVID-19 pandemic has indirectly made the nation one of the most reliable destinations for many large foreign enterprises, many of which are focused on diversifying their supply chains, he said.

The country is also capable of taking advantage of opportunities from the green economy, he noted, saying that the nation is one of the most affected by climate change, but it can also take advantage of this.

The third growth driver is domestic demand, particularly as Vietnam develops into a higher income country with a growing number of middle-class people, domestic demand will become stronger, he said.

Morisset went on to outline that the WB will continue to support the nation in achieving its ambitious goal of becoming a high-income and prosperous country by 2045.

The WB is therefore working closely along the Vietnamese Government to promote sustainable development and effectively respond to the threat of climate change in the Mekong Delta region, along with reducing air pollution which regularly hits major cities, he said.

Moreover, both sides are uniting in areas of inclusive development and gender-related issues in order to ensure people's participation in the economy, minimise the impact of the pandemic, and fully tap into future opportunities, the economist said.