Vietsovpetro surpasses oil and gas production targets
Tuesday, 19:35, 13/10/2020
The Vietnam – Russia oil and gas joint venture Vietsovpetro has reported that its oil and gas production during January-September surpassed the set target in the period.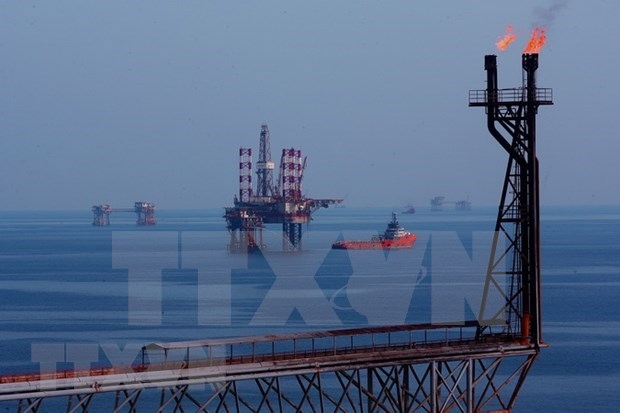 Despite dual crisis of the COVID-19 pandemic and substantial fall in the global oil prices, Vietsovepetro has carried out comprehensive measures to ensure safety for its workers and maintain stable production and business activities.

The venture exploited nearly 2.42 million tonnes of oil and condensate at Lot 09-1, or 8.4% higher than the set plan. Of the total amount, 1.8 million tonnes was pumped from Bac Ho oil rig, 56,000 tonnes from Nam Rong-Doi Moi, 60,000 tonnes from Gau Trang, and 67,000 tonnes from Tho Trang.

At Lot 09-3/12, more than 164,000 tonnes of oil was exploited, exceeding the set target by 15.4%.

During the nine-month period, Vietsovpetro exploited 62.6 million cubic metres of natural gas, surpassing the goal by 11%. More than 986 million cubic metres of gas was brought ashore, or 29% higher than the set goal.

From January – September, Vietsovpetro earned US$898.5 million from selling oil exploited from Lot 09-1, and contributed nearly US$365 million to the State budget. Meanwhile, revenue gained from oil at Lot 09-3/12 reached US$62.6 million, US$24.8 million of which was contributed to the State budget.

In a bid to complete the set target for the whole year, Vietsovpetro continues to outline rational measures in response to the duel crisis.

The venture has pumped up 500 million cubic metres of gas from Thien Ung field, which has been in operation since late 2016.

The Thien Ung field development project, 270 km southeast of Vung Tau city, is a component project under the gas development plan of the Vietnam Oil and Gas Group (PetroVietnam).

As planned, exploited products from Thien Ung will be brought offshore via the Nam Con Son 2 pipeline - Phase 2.

Vietsovpetro will drill new fields to provide recipients with an estimated gas output of up to 2 million cubic metres per day.

The operation of the BK-TNG rig at the Thien Ung field aims to create infrastructure connectivity and promote the exploration and exploitation of gas-condensate fields in the Nam Con Son basin area and the southern continental shelf of Vietnam, as well as contribute to ensuring national energy security and asserting national sovereignty over seas and islands.

Earlier, the venture successfully launched the base of the BK-21 oil rig at Bach Ho field. It is an uninhabited wellhead platform located near the MSP6 and MSP7 fixed platforms. Products exploited from BK21 will be transported to MSP6 through an underground pipeline.

Manufacturing, installing, commissioning, and putting the BK-21 platform into operation is an important milestone in increasing oil and gas production and ensuring the completion of Vietsovpetro's production plan in 2020.

Earlier this year, venture Vietsovpetro planned to earn US$1.38 billion in revenue for the whole year.

Leaders of the joint venture said the Vietnamese side hopes to gain US$102 million in profit, while the Russian side aims for US$98 million. The firm is expected to contribute US$630 million to the State budget this year.

At the 52nd meeting of the Vietsopetro Council, the two sides set a goal to produce 3.12 million tonnes of oil and 70.4 million cubic metres of natural gas in 2020.

In 2019, Vietsovpetro put two oil rigs into operation, meeting its target to expand exploitation areas.

Thanks its efforts, the joint venture's oil output increased over 236,000 tonnes.

Vietsovpetro raked in US$1.79 billion from oil sales in the year, equivalent to 112.4% of the set plan.

It earned US$446.4 million in profits and contributed more than US$1.15 billion to the State budget.