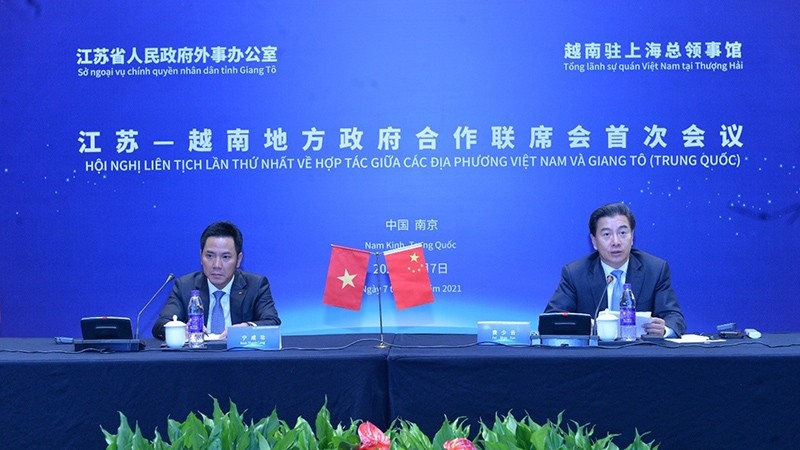 Officials of Ho Chi Minh City and Binh Duong and the Consul General in HCM City attended the conference via teleconference.
The two sides agreed to establish a regular exchange mechanism to promote mutually beneficial cooperation in various areas in the coming time, including digital economy, e-commerce, the COVID-19 fight, culture, education, and tourism.
They especially stressed the need to promote the role of young people in inheriting and developing the traditional friendship between the two countries.
Addressing the meeting, Vietnamese Consul General in Shanghai Ninh Thanh Cong affirmed that Vietnam attaches great importance to the development of the friendly relations and comprehensive cooperation for mutual benefit with China, in which grassroots-level cooperation is an important component.
The Consulate General of Vietnam in Shanghai is willing to support and boost mutually beneficial cooperation between Jiangsu and HCM City, Binh Duong and other Vietnamese localities, Cong said.
He suggested that the Chinese side create favourable conditions for Vietnamese businesses to export key products to Jiangsu, and encourage its high-tech enterprises to increase investment in Vietnam.
Cong also suggested that Jiangsu agencies and businesses consider providing Vietnamese localities with some vaccines and medical equipment to assist them with the ongoing COVID-19 fight.
Meanwhile, representatives of the Jiangsu administration pledged to create favourable conditions for Vietnamese enterprises to carry out promotion, attend exhibitions and do business in Jiangsu. They also agreed to encourage and introduce high-quality Jiangsu businesses to invest in Vietnam.
They affirmed that the Chinese side will actively promote cooperation with Vietnamese localities in research, development, and production of vaccines, medicines and medical equipment to combat COVID-19 within their capacity.
They also revealed that the Jiangsu administration will provide Vietnamese students with more scholarships, while strengthening cooperation in culture, sports, tourism, as well as youth exchange with the Vietnamese side.
At the conference, the Consulate General of Vietnam in Shanghai and the Foreign Affairs Office of Jiangsu signed a memorandum of understanding to strengthen mutually beneficial cooperation between Vietnam and Jiangsu.
Statistics show two-way trade turnover between Vietnam and Jiangsu reached US$23.84 billion last year, representing a year-on-year increase of 31.7% and accounting for about 1/8 of trade turnover between Vietnam and China.
As of July 2021, Jiangsu had invested 261 projects in Vietnam capitalized at US$1.82 billion.