Vietnamese Government leader positive on better future for relations with Japan
Wednesday, 16:03, 24/11/2021
VOV.VN - Nearly 50 years on since the establishment of diplomatic ties with Japan, bilateral relations have never been as good as they are now, whilst there remains bright prospects ahead, said Prime Minister Pham Minh Chinh during a luncheon and dialogue with leading Japanese investors.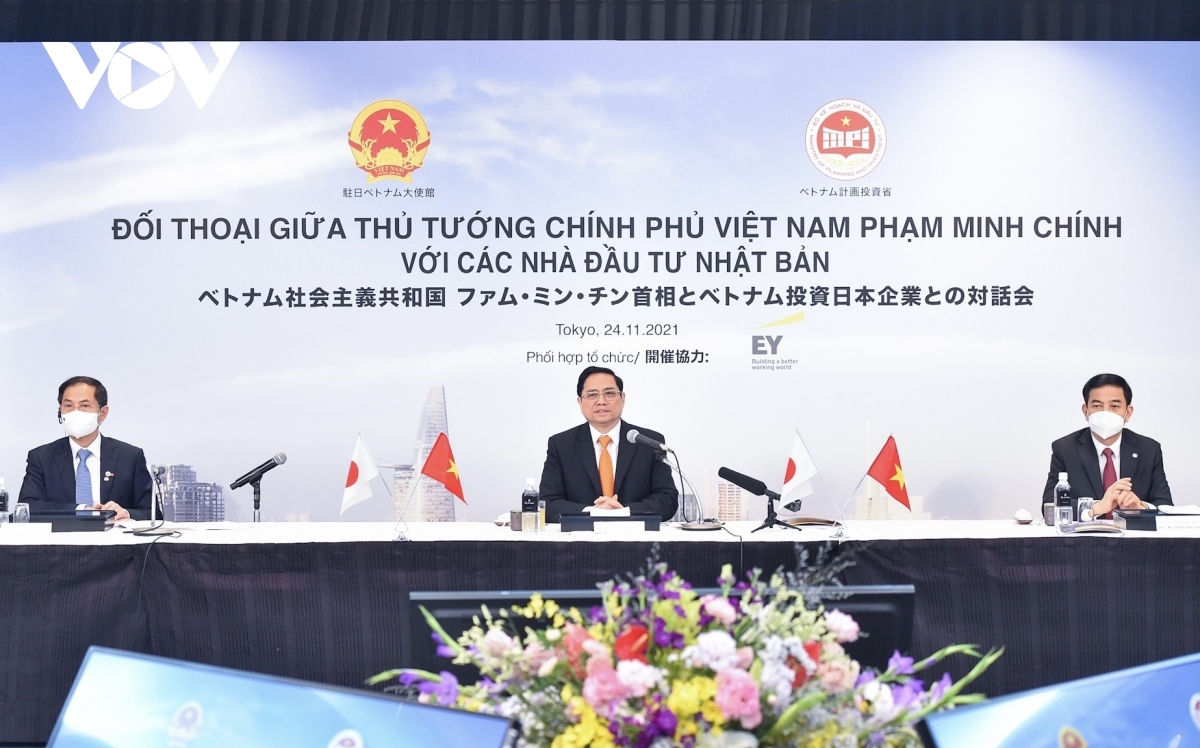 The Vietnamese Government chief expressed his confidence that the ongoing high-level visit will serve to take co-operative relations between the two countries to new heights. According to PM Chinh, the mutual relationship is "a predestined relationship", with a Japanese bridge in the world heritage site of Hoi An in Quang Nam province being considered as a symbol of diplomatic relations between the two countries.
Japan is currently the country's largest ODA donor, with total funding amounting to nearly US$27 billion, thereby accounting for approximately 30% of the ODA the Japanese Government has donated to other countries worldwide.
"We are also in the process of discussing and believe that there will be a new generation of ODA soon, with new ways of doing things to further improve the efficiency of ODA capital," said PM Chinh.
In terms of direct investment, the Far East nation is currently among the top investors in the Vietnamese market with some 4,800 projects valued at more than US$65 billion.
Japan is also third in terms of the number of tourists visiting the nation, with about one million people, while two-way trade has climbed to approximately US$40 billion, of which the PM expects the figure to be even higher in the near future.
According to the Vietnamese Government leader, the country's upcoming orientation is to prioritise green development in harmony with nature, climate change adaptation, and digital transformation.
"We are destined to continue implementing three strategic breakthroughs with a focus on institutional breakthroughs associated with administrative reform, cost reduction for people and businesses, training of high-quality human resources and infrastructure development, such as traffic, digital infrastructure, and climate change adaptation," PM Chinh said.
In reply to specific questions regarding the issue of concern among Japanese investors, such as land policy for infrastructure, railway transport, development orientation for the energy industry, and smart city development, PM Chinh said urban development will be the driving force behind growth. Indeed, there has been land planning put in place for the next decade and beyond.
"In terms of land resources, we do not distinguish between public and private investors, as long as they comply with the law and are equal, so that resources can be effectively utilized," he emphasized.
Regarding the draft Power Plan 8, PM Chinh outlined that the Vietnamese Government is in the process of consulting scientists and businesses to revamp and deliberate the transmission structure, distribution, and effective use of power. However, the priority remains to develop renewable energy as this is a global trend and a resource that Vietnam boasts great advantages in, the PM added.
The PM stated, "We are also finalising the bidding and auction mechanism in line with the market development, thereby creating the most favourable conditions for investors."