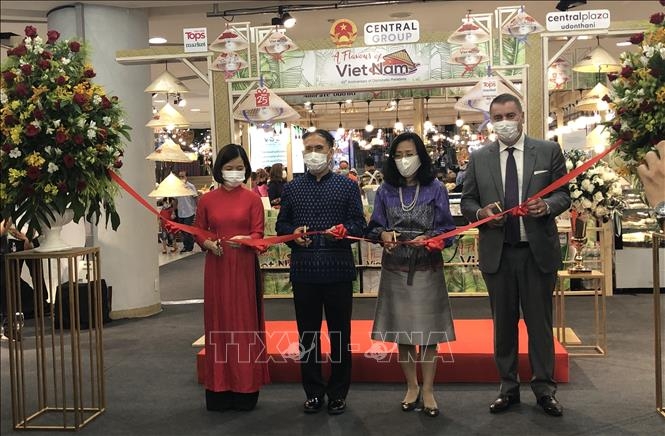 The four-day (Udon Thani 2021) aims to provide an ideal venue in which local firms can introduce 150 high-quality products to Thai consumers.
Addressing the opening ceremony, Emmanuel Couronne, chief merchandise officer of Central Food Retail, underscored the importance of the event as a way of boosting Vietnam – Thailand mutual relations, helping businesses to expand their connection channels, and meeting the demands of consumers from both countries.
Representatives of the Central Group and its partners also expressed their hope that the event will serve as a bridge in which to promote Vietnamese products both in Thailand and around the world as a whole.
Tran Thi Thanh My, Vietnamese trade counselor in Thailand, emphasised that Vietnamese Goods Week will create greater opportunities for Vietnamese enterprises to introduce their products to Thai consumers and international tourists, while simultaneously providing the chance for Thai people to purchase high-quality goods produced by Vietnamese companies.
My expressed her belief that over the coming years, the Vietnamese Goods Week scheme, along with other trade promotion activities, will be further deployed in order to ramp up trade co-operation efforts, thereby contributing to strengthening the partnership between the two business communities.
Wanchai Janporn, deputy governor of Udon Thani, said that the locality is strategically positioned on Thailand's main transport route and has therefore been identified as one of the top 10 tourist destinations for the conferences, seminars, exhibitions, and events (MICE) model.
More importantly, Udon Thani is also home to the largest number of overseas Vietnamese in Thailand, a factor which demonstrates the deep relationship between the people of Udon Thani and Vietnam, he said, adding that Vietnamese Goods Week in Thailand - Udon Thani 2021 will serve to reap many great benefits.
Vietnamese enterprises present at the event include Dalat Hasfarm, Lam Dong Pharmaceutical, Dong Xuan Knitting, Hong Ha, and Thien Long Stationery.
A number of Vietnamese agricultural products such as lychee, dragon fruit, and sweet potato will be introduced during the course of the function.