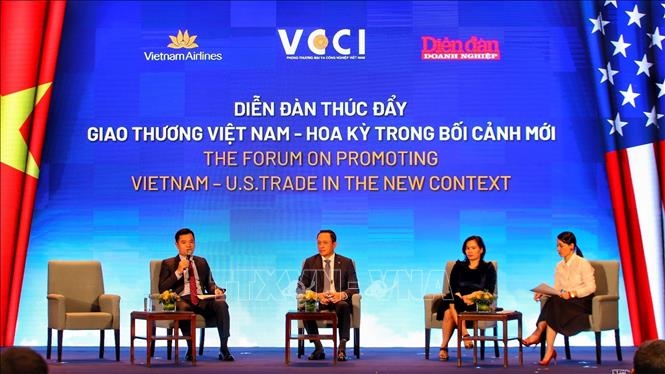 Bilateral trade has increased hundreds of times, from just US$451 million in 1995 when Vietnam and the US normalized diplomatic ties to US$90.8 billion in 2020, revealed Hoang Quang Phong, Vice Chairman of the Vietnam Chamber of Commerce and Industry (VCCI).
The first eight months of this year saw bilateral trade gross US$73 billion and the figure is expected to reach US$100 billion later this year, said Phong.
Plenty of opportunity
Despite the global supply disruption caused by COVID-19, many US businesses have stepped up negotiations to invest in Vietnam's manufacturing and processing, clean energy, aviation, healthcare, pharmaceuticals among other areas.
Vietnam is the 10th largest trading partner of the US, with its exports increasing by 230% over the past five years. Meanwhile, the US is also the largest trading partner of Vietnam, with its exports also soaring by more than 175% in the reviewed period.
The wood processing industry is among those that have brought much hard currency from the US market, according to Ngo Sy Hoai, Vice President and General Secretary of the Vietnam Timber and Forest Products Association (VIFOREST).
Vietnam is currently the largest exporter of wood products to the US, while it is the second largest consumer of the US's wood materials after China.
This year, due to the impact of the COVID-19 pandemic, wood exports to the US is anticipated to reach only US$8 billion, lower than the US$10 billion target set at the beginning of the year.
Yet, Hoai believed that Vietnam's wood exports to the US – a market of approximately 300 million consumers – would leap to US$10 billion in the near future.
Challenges lying ahead
At the forum, speakers pointed out that Vietnamese businesses are keen to penetrate the large, lucrative US market, in terms of capital, science and technology, and management skills. Meanwhile, US businesses expect Vietnam to carry out extensive reforms to make its business and investment environment more attractive.
However, they warned the US is tending to increase protection through new regulations and standards on food safety, product origin and quality, barring Vietnamese exports. In addition, Vietnam exports large amounts of products to the US, but most of them are raw products.
Experts suggested that businesses increase deep processing and meet requirements on origin of production materials, to avoid trade defense lawsuits.
Former Vietnamese Ambassador to the US Pham Quang Vinh noted it is necessary to develop a roadmap to elevate the two countries' relations from a comprehensive partnership to a strategic partnership which is in line with the interests of both Vietnam and the US, as well as with Vietnam's foreign policy and its relationship with other countries.
According to the former ambassador, the US is yet to return to the Comprehensive and Progressive Agreement for Trans-Pacific Partnership (CPTPP), but it has put forward many initiatives on climate change, renewable energy, digital trade, and infrastructure development.
These are new potential areas of cooperation between the two countries, stressed the diplomat.
He suggested that both countries consider another free trade agreement and increase consultations to remove obstacles and penetrate each other's markets.