Vietnam, UK step up cooperation in digital and green transformation
Tuesday, 10:06, 16/08/2022
VOV.VN - Vietnam and the UK are in a very favourable position to take their strategic partnership to new heights, especially when both sides hold great potential for broader co-operation in technological innovation, digital transformation, climate change response, and supply chain diversification.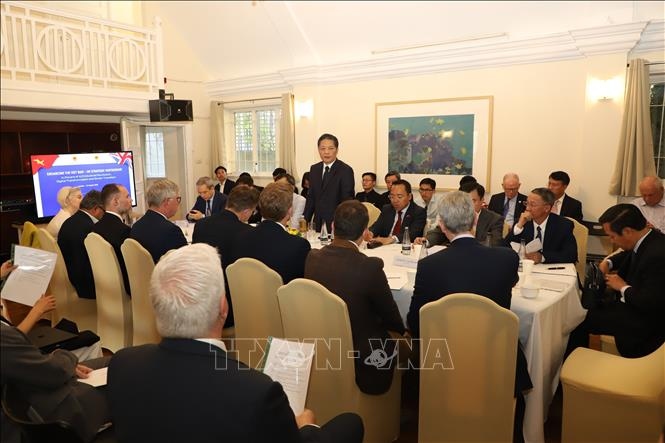 These comments were made at a seminar held to discuss strengthening economic and trade co-operation between the two sides in the context of Industry 4.0, digital transformation, and green transition, which was recently held at the Vietnamese Embassy in UK.
Within the framework of a working visit to the UK from August 10 to August 15 by a delegation of the Communist Party of Vietnam (CPV) led by Tran Tuan Anh, Politburo member and head of the Party Central Committee's Economic Commission, the seminar was chaired by Anh with the participation of UK politicians and businesses.
The seminar specifically focused on discussing Vietnamese potential and conditions in the field of digital transformation, clean energy transition, as well as future prospects, co-operation opportunities, as well as recommendations and proposals to bolster ties between the two countries in these areas.
In his speech, Anh emphasised the purpose of the delegation's visit which is to further consolidate the joint strategic partnership, especially to expand co-operation opportunities in the fields of economics, trade, and investment.
Anh provided updated information on the current socio-economic development situation in Vietnam, especially with regard to Party policies on major issues related to goals and strategies for national development moving forward. This is in line with the guidelines of the 13th National Party Congress which emphasises strategic goals on digital transformation, digital economy, financial market development, services, energy transformation, along with development in a fast, sustainable, and inclusive way.
It also concentrated on developing an autonomous economy and implementing Vietnamese commitments previously made at the 26th Conference of the Parties to the UN Framework Convention on Climate Change (COP26), along with adapting to Industry 4.0.
The two countries have already established solid relationship frameworks and have many similarities in terms of development goals, both of which serve as a very important foundation to develop diverse and effective bilateral relations across multiple fields. This is especially true in areas where the UK has strengths and Vietnam is in demand, including green growth, technological innovation, and digital transformation, he said, while emphasising that this represents an opportunity to practically meet the common interests of each country.
With regard to the Vietnamese digital transformation process, Deputy Minister of Information and Communications Phan Tam said that the country has set a goal of digital transformation accounting for 20% of Gross Domestic Product (GDP) by 2025 and 30% of GDP by 2030. In line with this, there will be a specific focus on sectors with the large number of users and socio-economic impacts, such as health, education, agriculture, transport and logistics, energy associated with green transition, and banking finance.
Deputy Minister Tam also introduced favourable conditions for digital transformation in Vietnam, with the average digital economic growth of roughly 30% per year and pointing out opportunities for further co-operation and investment between the two sides in this field. This includes fine-tuning institutions aimed at facilitating digital transformation, building a digital government, developing digital infrastructure, digital transformation of small and medium enterprises, digital skills, more investments, nurturing startups, and unleashing innovation.
During the course of the seminar, Deputy Minister of Industry and Trade Nguyen Sinh Nhat Tan called on the UK to closely work alongside Vietnam in investment, technology transfer, and support the nation in devising proper policies and suitable management models. This can be done in a bid to promote further industrial development in the era of digital transformation and Industry 4.0, along with helping the transition to renewable energy sources, including wind power development.
Adrian Scholtz, energy director of KPMG in the UK, affirmed that Vietnam represents a market in Southeast Asia that is highly appreciated by both British and European renewable energy developers. As a result, both sides have plenty of co-operation opportunities in the field of energy conversion, especially offshore wind power.
The UK can therefore provide support and share experience with the Vietnamese side in formulating long-term policies on accelerating energy transition, building offshore wind power infrastructure, and developing low-carbon energy, he assessed.
He emphasized that building a legal basis for energy transition is especially important as it serves as the basis for attracting businesses to invest in large projects relating to offshore wind power and new renewable energy.
According to Will Cavendish, global lead for Digital Services at Arup, said that digital transformation plays an important role in the transition to a net-zero emissions economy, while also highlighting the huge potential that exists for co-operation between Vietnam and Britain in this area.
The UK is currently in the process of carrying out digital transformation and has experience in formulating laws and regulations, as well as approaches in this regard, with Vietnam able to learn from the UK's experience, he went on to say.
Digital transformation also creates new industries for the economy, such as electric vehicle production, offshore wind power development, areas the UK has experience in, with the two sides having many opportunities for broader co-operation moving forward, he added.